Content creation is the key to any successful digital marketing campaign, and businesses must constantly churn out relevant content to their respective audiences. However, our minds aren't perfect to produce the perfect content with the most creative way to deliver it. Sooner or later, we'll end up recycling old ideas, writing stale content, and losing creativity in how we write and publish content.
Content marketing is hard work, and many companies struggle to produce content, let alone engaging content consistently. If their content can't reach and engage their target audience, they'll only be wasting time and resources with their marketing campaign.
But fear not, for many companies still have successful marketing campaigns. We can learn from their successes and use some of their content marketing strategies on our own, and potentially benefit from their success. Below are 25 brilliant content marketing examples that other businesses used to produce great benefits:
Writing Long and Insightful Content – HubSpot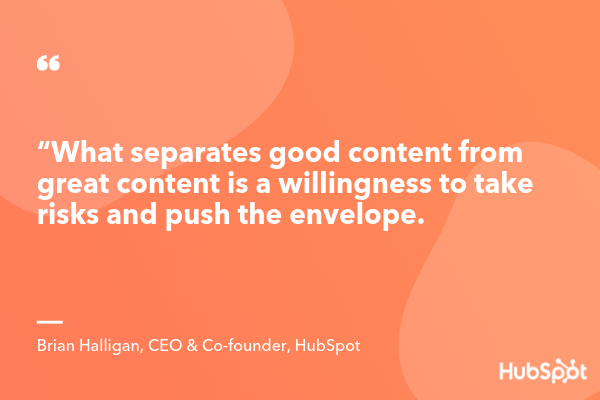 HubSpot has a wonderful strategy when creating content that allows them to satisfy its audience's needs. They produce Ebooks and long blog articles to cover an entire spectrum of a certain topic instead of writing 5-10 articles of only one topic. Their blogs typically have 2,500-3,000 articles each.
Suppose you want to write about a particular topic and find that you can write about 10 articles regarding it and its possible subtopics. In that case, you can consider creating an Ebook where you can incorporate all the information you'll write. Likewise, if you have several old and related articles that have done well in the past, you can also repurpose it and incorporate all the information there into one Ebook.
Writing long blog posts is also good for your search engine optimization campaign since it allows you to earn more quality backlinks than short articles. Longer content is also usually more comprehensive on a particular topic than a short article, meaning that it has a higher likelihood of having the answers a visitor is looking for.
The only thing to remember here is that if you're writing a long blog post, your content must be relevant to earn the backlinks. If you don't have time to write such content, you can rely on an SEO agency to create the content.
Start with Guest Posting – Buffer
Buffer is a social management tool that many marketers use to publish content on different social media platforms, including Facebook, Instagram, Linked In, and more. Their current success can be attributed to their content marketing strategy, where they relied on guest blogging for their initial growth then writing high-quality and shareable content on their blog.
They initially focused on posting content on high visibility sites and then relying on the author byline to channel traffic back to their site. So naturally, their site also contained high-quality content to show their visitors more things to read. This strategy allowed them to get their first 100,000 customers after only 9 months of running the campaign.
Write Informative Content Using a Publication that Lasted Hundreds of Years – John Deere
John Deere is the Deere & Company's brand name. John Deere also published "The Furrow" to help customers with whatever agricultural issues they faced, including improving crop quality and quantity. Because many people are already familiar with the publication across multiple generations, it was wise to keep the name and start publishing the same type of content online.
Sharing your knowledge in an easily accessible and recognizable platform has a significant impact on your target audience.
Writing What the Audience Wants – AARP
You write for your target audience and convert visits to sales, but you can have difficulty thinking of new topics to churn out after writing so many articles. A good workaround here that still lets you have relevant content is writing based on what your audience proposes.
AARP The Magazine's content marketing strategy is focused on generating relevant content that their readers propose, allowing them to produce engageable content instead of writing stagnant articles. Their readers tell them what to write through emails, social media comments, and classic mail, then they use the topic that resonates with them the most.
AARP The Magazine is currently America's leading consumer magazine in the first half of 2020 and has reached about 20 million households.
Informative Content with Entertaining Marketing – LinkedIn
LinkedIn is the largest professional online network globally, and many people want to learn how to use it effectively. Moreover, LinkedIn is the expert about its own network, and its ebook tackling its approach to marketing in the platform is a hit among many users.
LinkedIn promoted their educational ebooks with visuals that have funny quotes and have continued doing so.
Educate Customers More – Simply Business
Simply Business is a UK-based insurance company that won't likely have a content marketing strategy as entertaining as that of B2C companies. Instead, simply Business focuses on the B2B sector and produces useful tips and guides for their customers.
They share a lot of informative articles, blogs, and interactive guides, including this example.
Produce Humorous Content – Zomato
Zomato is an on-demand restaurant finder mobile app available in 24 countries to order from their favorite restaurants. Zomato then used a clever marketing strategy by creating and sharing images that reference popular culture, including one that used The Oscars for more visibility.
Humor and real-time marketing can help your brand get great results.
Create Diversified Content – Buzzstream
Buzzstream tried to position themselves as industry leaders in their nine-month marketing campaign by using diversified content to provide information. Buzzstream created multiple informative blog posts, research-heavy guest posts, infographics, and videos.
The marketing campaign resulted in a record-breaking number of new signups.
Create Video Diaries – Rip Curl
One content marketing strategy that Rip Curl employed perfectly is creating diary-like videos where surfers travel worldwide to look for the perfect waves. After making the videos, they then share them on high-visibility sites like YouTube, Facebook, and their content hub, The Search.
Writing a simple article talking about how great the waves are isn't enough to satisfy Rip Curl's customers since they need proof that the waves are great before they'll test the waters themselves.
The results of Rip Curl's' strategy are:
More than 125,000 followers on YouTube
About 2.2 million followers on Facebook
Upload Funny Video Ads – Old Spice
Old Spice has been in the business since the 1930s, and they did something similar to what John Deere did for their marketing campaign. They adapted and updated their content marketing strategy to better fit today's trends.
Old Spice created funny video ads that showcased their products. The original video ad now has 57 million views on YouTube.
Reference a Modern Pop Culture Trend in the Campaign – Hootsuite
Hootsuite is similar to Buffer in that it is a social media management tool, but it's approach on a content marketing strategy is different from Buffer's. Hootsuite relied more on the power of social media in a marketing strategy and used it to get creative with the current modern pop culture trends.
Hootsuite used the popularity of the Game of Thrones on a video where they showcased the apps that its users can manage through the app. The video's name is "A Game of Social Thrones," with 1.3 million views.
Produce Outrageous Content – Blendtec
One unusual way to test and highlight a blender's power and quality is by taking things that shouldn't be blended and blending them anyway. Blendtec did just this with their "Will It Blend" video series. They take iPads, iPhones, car key fobs, and others to blend them using their blenders, effectively highlighting the quality of their products and entertaining their viewers.
Their outrageous first videos from 14 years ago had millions of views while items that people already know can be blended or not had several tens to hundreds of thousands of views. In addition, their sales increased by 700% thanks to the campaign.
Publish Creative Trends Report – Shutterstock
Shutterstock is active in images, and many people benefit from the royalty-free pictures it offers to its users. They chose to deliver a Creative Trends report infographic that everyone can use.
According to the Content Marketing Institute, the 2017 Creative Trends report generated more than 6 billion unique site visits and 5,300 shares on social media, while the 2019 edition generated 160,000 page views and 146,000 unique sessions in the FIRST two weeks of the release.
Providing informative and educational content to your audience means having engaging content they can use.
Next Level Creativity with Video Marketing Campaigns – JetBlue
JetBlue is one of the leading airlines in the world, and it's always been creative with its content marketing campaigns. It took its video content marketing strategy to another level by creating engaging videos to inspire its audience.
Some examples include the Reach Across the Aisle campaign, which encourages people to find out what unites them, a video series about flying with infants, and a series of quirky Flight Etiquette videos.
Show High-Quality Products Through Visual Content – Rolex
Rolex is well-known for its watches, and its content marketing strategy leverages this and delivers high-quality visuals showing their product's quality. Rolex's products stand out in visual content, so it makes sense that their content will be focused on visuals.
Rolex conveys the quality and timelessness of its brand with excellent photography that allows it to radiate the product's quality. Fans love Rolex's strategy, allowing 7.8 million followers on Facebook and 11.8 million on Instagram.
Multicultural Content Marketing Campaign – Superdrug
Superdrug is a beauty and healthcare company that used a content marketing strategy reliant on hiring 18 graphic designers from different nationalities. First, they edited one photo of a model to produce a final copy that agrees with their respective country's beauty norms.
The multicultural campaign was published on different high-visibility websites, like Huffington Post, Buzzfeed, and Sofia Vergara. This high visibility and multi-cultural friendly marketing campaign resulted in about 1 million shares across social media platforms and about 3 million views.
Create a Fake Website to Catch Your Leaving Customers – Zendesk
At some point, a brand's customers will always look for alternative products or service providers. Zendesk had this problem, and they solved it by creating a fake band called "Zendesk Alternative" which leveraged the common keyword that people used when looking for alternatives to Zendesk.
Zendesk created a website and songs for Zendesk Alternative. The site received a lot of traffic from people searching for alternative customer service software companies and people stuck around.
Influencer Marketing – General Electric
General Electric may be a very old company, but it uses the latest trends in content marketing to compete with other brands in its industry. One modern trend was their #GEInstaWalk Instagram marketing campaign, where they asked both well-known social media influencers and micro-influencers to participate in the campaign. They went on tours of GE's manufacturing facilities while letting the influencers take photos and share them on Instagram, where other people can see them.
The results:
8 million views on Instagram
About 3,000 new followers
About 3 million reaches per tour
Interspersing Original Content with Others' Content – Interpid Travel
While Rip curl focuses on video diaries, Interpid Travel focuses on sharing travel images from various travelers while also posting their content. Interpid mainly shares its content on both Facebook and their content hub, The Journal.
The content strategy that Interpid Travel employed is meant to engage the reader to want to travel and then go to either Interpid Travel's Facebook posts or The Journal.
Sponsor Big Events – Grant Thornton
Grant Thornton sponsored the 2016 Tony Awards and offered behind-the-scenes access to people, and made videos of the event. This move was meant to generate a high impact for their Access Granted campaign.
They made about 3.7 impressions on Twitter alone and beating their initial goals for YouTube.
Encourage Interactions – Coca-Cola
The Share a Coke campaign was a marketing campaign where Coca-Cola created 150 different bottle etiquettes with the most common names in Australia. The campaign is meant for people to buy them and share them with their friends who have the same names placed on the bottle.
The campaign ended with Coca-Cola selling over 250 million bottles.
Blend Marketing with Technology – Burberry
Burberry's greatest content marketing campaign was the Burberry Kisses campaign, where people can connect with others using their mobile phones. People only had to use their phones to detect a user's kiss and send them to anyone in the world.
You can also see the delivery process on Google Maps and Google Street View to see the digital kisses' journey.
Develop an App to Help Customers – Charmin
Finding a clean bathroom can be a hassle if you're not familiar with the area you're currently in, and there's still a chance that you'll end up with a dirty toilet. So Charmin, the toilet paper company, offered its customers the ability to find a clean bathroom using the Sit and Squat app.
Having a fun app you can use to promote your products is excellent to improve engagement. The app has already been downloaded about 100,000 times.
Using User-Generated Content – Glossier
User-generated content is easy to come by in the fashion industry as many celebrities, influencers, and ordinary people post about their products when incorporated into their OOTD. It's normal for customers to show off what they got with their hard-earned money, especially if it's worth the cost, and businesses can use them for their marketing campaigns.
Glossier frequently uses user-generated content on their Instagram account, like how they regrammed this post by @laurenmichellepires using their product. Regramming content lets the original Instagrammer know that they can be seen by Glossier's 2.7 million followers.
Glossier's many followers are also proof enough that their marketing approach is effective.
Combine Different Marketing Strategies – Lush
Using user-generated content can help improve a company website's online visibility, and Lush is another company that leverages this for their campaign. Lush uses a range of content marketing to reach their audience, but they didn't stop just creating content and promoting their product themselves.
Lush encourages their users to share their photos and use hashtags on their posts. They also share their customers' posts. Lush currently has 4.1 million Instagram followers.
Conclusion
If you're running out of ideas for your content marketing strategy, then you can take a look at the 25 examples we mentioned and see what will fit your company best. If you need help executing some of these strategies, especially those geared toward content creation, you can look for a reliable SEO agency to help you write articles that will convert to sales.