This Florida Lawyer reached out to It's a Writer's World to help boost her website's organic search, keyword rankings, and overall site improvement. Through local SEO efforts and Google My Business Optimization, It's a Writer's World was able to increase their organic clicks by 110% throughout the span of the campaign vs. the previous year. With the site built on AWS platform and carries an outdated web design, along with several changes in the structure, this law firm struggled to make a mark on Google search. It's a Writer's World team found numerous site errors upon running the site on several SEO tools making it a very challenging campaign.
About the Law Firm
This Florida law firm is a team of litigation attorneys who specializes in accident and injury cases. They offer free case evaluation for any car accident, motorcycle accident, truck accident, or slip and fall case in Tampa, St. Petersburg, Lakeland, Land O Lakes, and Sarasota.
Their primary target audience is accident victims looking for compensation. They aim to help families of injured victims who have been neglected by the accused and ensures they receive the compensation they deserve. Justice is a basic human right, and the mission of this Florida Law Group is to fight for that justice for every victim, no matter how underrepresented or unheard their voice.
The Challenge
The challenge lies in the website's current structure. Upon running it through several SEO tools including Screaming Frog, Google Search Console, and Page Insights, the It's a Writer's World team found that the website has a lot of technical errors including countless redirections, mobile responsiveness, speed, and lack of meta tags optimization. The website also has a not-so-friendly CMS which only an expert in AWS would be able to edit. Budget limit is another factor.
Where I rocked
I've provided the law firm with recommendations to improve their website from a technical perspective along with optimized meta tags and internal linking structure. However, due to the absence of a developer, these recommendations were not implemented. Thus, I had to rely on off-page optimization to boost the site at an external scale.
Through Citations and Google My Business optimization efforts, I had submitted and landed links in major citation sites and have maintained posts for each Google My Business location profile.
After 5 months of work, here's where we are at so far.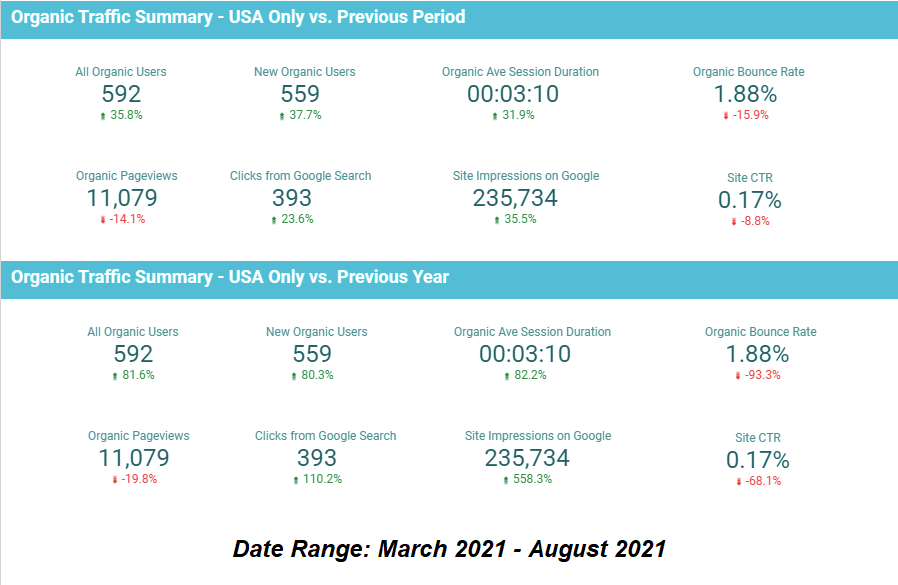 As seen in the screenshot, I've helped improve organic users by 35% vs. the previous period; and it has grown by over 81% vs. the previous year. Site organic clicks have also grown to 23% vs the previous period, and it has grown by over 110% vs. the previous year. They've also gained 325 actions from Google My Business collectively; 179 website clicks, and 72 phone clicks.
Conclusion
In the 5 months that I've worked on this client in a part-time role (10 hrs/week), I've managed to boost the site's organic visibility even with the disadvantage of not having website access. The project is currently on hold until the law firm finds a suitable candidate to finish website improvements and redesign.