This Palawan Restaurant has recently reached out to It's a Writer's World and FloppyHaus Events for social media marketing to improve their brand awareness and get more calls through Google My Business. Since this restaurant is newly acquired and is in a very competitive market, the owners knew they had to take their marketing to the next level and get more of their target audience walking in.
About The Restaurant
The establishment is a bar and restaurant offering home-cooked Filipino dishes with live music entertainment on a nightly basis. They take pride in serving the coldest, below zero beer in the city, which tourists and expats, and locals love. Located in Rizal Avenue, Puerto Princesa, which is one of the busiest main roads in the city, they struggle to make a name versus competitors.
Their primary target customers are foreign tourists and middle class locals who are looking for place to hangout and drink or enjoy authentic Filipino food.
This is where I've stepped in to help with their marketing efforts through social media marketing on Facebook, Instagram, and Google My Business.
The Challenge
The restaurant struggled with utilizing their social media platforms correctly. They've also struggled with reputation management after hosting a gay-oriented event and the main host (a popular local TV personality) got involved a vehicular accident after the said event. Although the restaurant welcomes the LGBT community, the event has left the impression on tourists that the establishment is a 'gay bar' as opposed to being a venue for general entertainment and music.
Here are the other issues they're dealing with:
They lacked consistency in branding in their posts.
Social profiles have low engagement and slow fan base growth.
They failed to use rich media for better content (images, videos, etc.).
Lacked call to action on all social platforms.
Inconsistency and lack of knowledge in promoting products and services.
Where I Rocked
The first thing I did for this restaurant is to establish their branding. After a quick chat with the owner and learn about the business, it's background and their story, their goals, etc., I've conducted competitor analysis to 1.) identify their current market position, and 2.) create a benchmark to define target goals.
I've also worked on their marketing materials (images, video headings, etc.), social media content calendar, keyword research (for Google My Business), and community engagement.
After 2 weeks of work, here's what I achieved.
FACEBOOK STATISTICS
As seen here, the overall page performance of their FB page has significantly increased over the course of
28 days.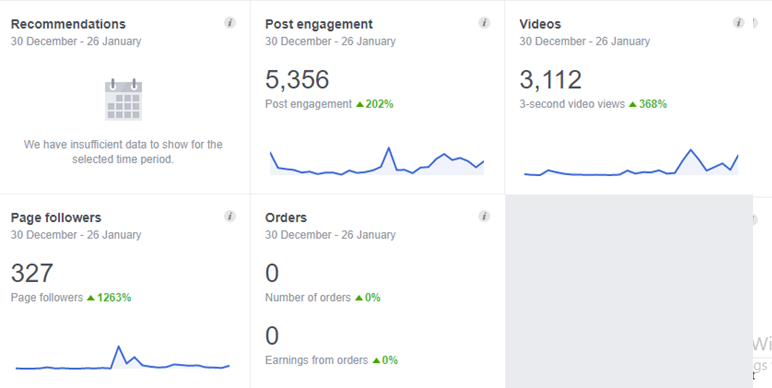 Page engagement is up by 202% and video views is up by 368%, and page followers is up by 1.2k%
Engagement on page has significantly increased over the two week period versus the previous period.
Total number of page likes have significantly increased since the campaign took effect.
INSTAGRAM STATISTICS
*I've created a new profile as the old one is inaccessible.
Since the profile is fairly new, some of the stats are unavailable. Either way, the new IG profile has received an average of 6.2% engagement over the 2 week period and 11% post interaction.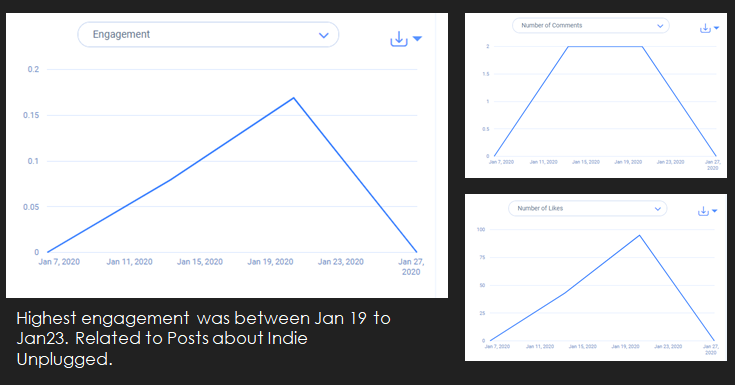 TWITTER STATISTICS
*Twitter profile was also created in behalf of the business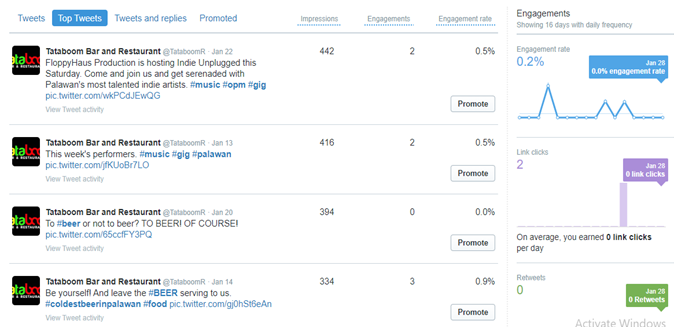 Since the Twitter profile is fairly new, some of the stats are unavailable. Hence, you can see that the average engagement on the 28 day period is 0.2% with each tweets receiving over a hundred impression.
GOOGLE MY BUSINESS STATISTICS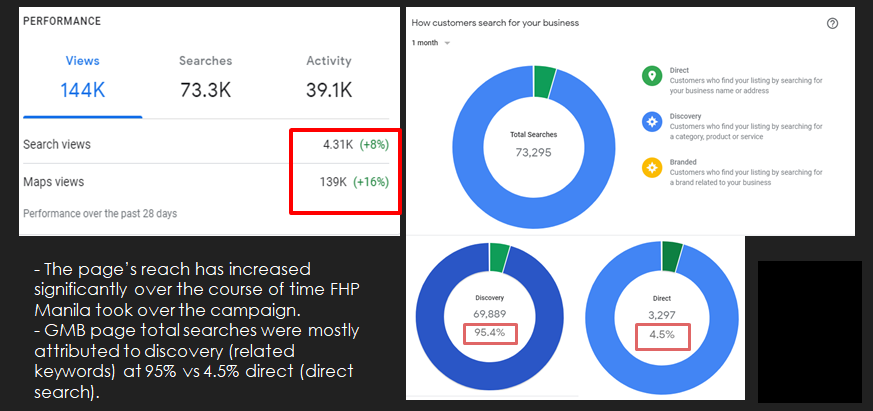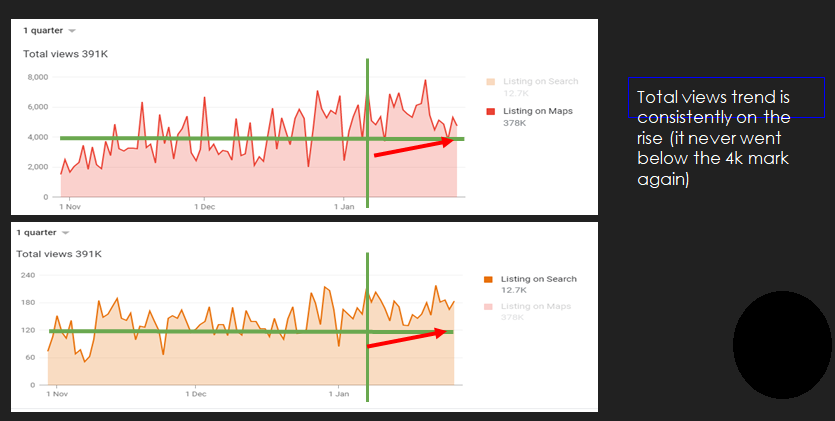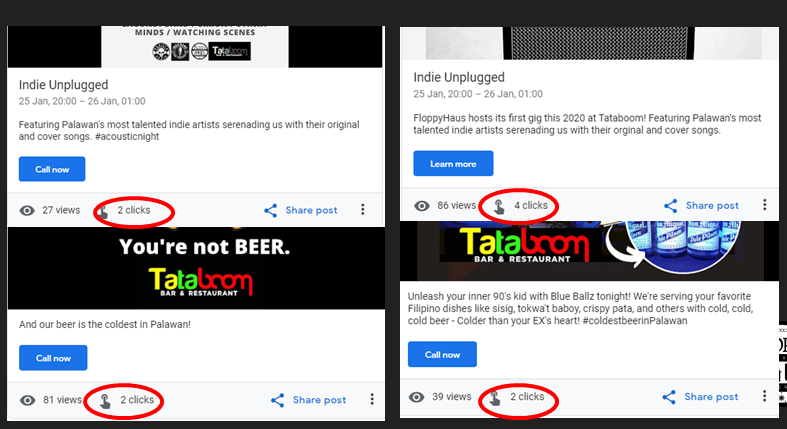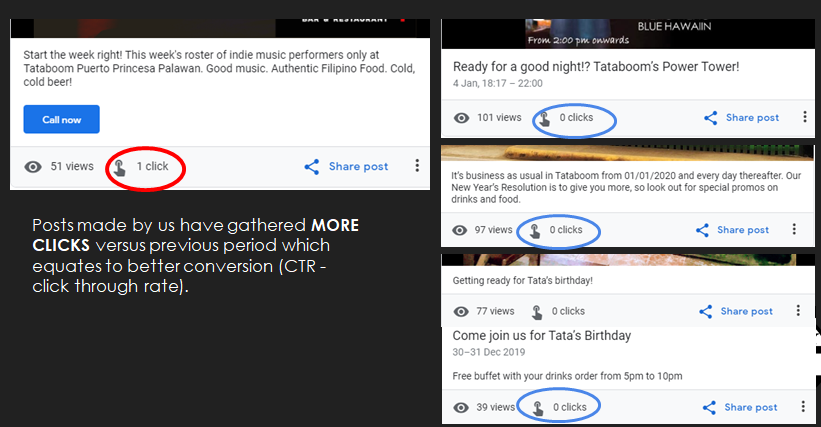 Conclusion
In the 2-week period I've worked on this Palawan restaurant, massive improvement has been seen throughout their social media profiles. Their engagement and fan base have greatly increased through our efforts and setting the right call-to-actions have gained more conversions.