Content Marketing Services in the Philippines
Effective content marketing strategy that drives results!
Online content rules digital marketing—that's a fact! With consumers craving for information and personalized experiences, content marketing has become the go-to way to attract, engage and convert prospects into customers.
That's why digital marketers worldwide are now tapping into content marketing services more than ever. Content marketing is now used by savvy businesses across different industries to build relationships with their target audience, promote brand recognition, and grow their online presence.
At its core, content marketing involves creating and distributing valuable, relevant, and consistent content to attract a clearly defined audience to drive profitable customer action. Content marketing requires investing time, money, and resources—but when done right, it can yield tremendous returns.
Content marketing campaigns require strategic planning, especially if you want to achieve maximum ROI. This is where It's a Writer's World SEO and Content Marketing Services can help you. Our content marketing agency has over a decade of combined experience in providing effective content marketing strategies to clients from all over the world—from Australia, the United States, and the United Kingdom!
Successful content marketing means creating and distributing content that resonates with your target audience. We understand that no two brands are the same, and neither are their content goals. This is why we listen to your needs, understand your target audience, and create content marketing strategies tailored to your objectives. Whether it's promoting brand awareness or driving more leads through online channels, we can help you succeed.
Amplify Your Content Marketing Strategy Today!
My Content Marketing Services
Most of my digital marketing clients consider me a "unicorn". Apart from my extensive writing background (completing Journalism as an undergraduate degree), I am also quite knowledgeable in both technical SEO and social media marketing. This gives me an edge over other content marketing agencies and SEO experts. I've literally done everything under the sun and have managed numerous marketing campaigns for small to large-scale businesses.
With my content marketing services, you can expect top-notch quality and results. I believe in providing the best value for your money—that's why I strive to ensure that every marketing campaign is strategic and well-researched. From blog post content creation to finding distribution channels, everything is backed by market research.
I provide an array of content marketing services, which include:
Keyword Research
Keyword research is the backbone of every digital marketing campaign. It's the foundation of an effective content marketing strategy, and it helps ensure that your content reaches its intended audience in search engine results pages (SERPs).
Proper keyword research also helps establish search visibility. We take the time to understand actual words and phrases typed in by your target audience on organic search. Thus, helping you identify potential content topics and uncover what visitors are really looking for.
Content Gap Analysis
Content Gap Analysis identifies the content your audience is looking for, but you're not providing. By learning where the competitors excel, it allows you to produce the right website content that will attract the right market and eventually convert them into leads or customers.
Finding content gaps also include looking into social media posts and determining which ones are getting engagement. This allows you to gain insights about the content topics that perform better and determine which potential topics your brand should focus on.
Content Strategy and Development
Any content marketing campaign can result in chaos without a well-thought-out strategy that binds it together. Our content marketing strategists create comprehensive blueprints for your content campaigns—down to the last detail. We look into several factors, such as current SEO trends, competitor analysis, target market interests, and more, before developing an effective strategy that meets your goals.
We drive digital differently so you can achieve business success. Everything we do and recommend is backed by data and research, so you know you're in good hands.
Whether it's writing blog posts, website copy, product descriptions for your e-commerce site, or even short infographics, I have the skills and experience to write SEO copy that converts!
Compelling content means much more than just delivering the right keywords; it's about captivating your readers, engaging them with interesting topics, and creating content that resonates with your target audience. It should also complement your SEO efforts and inbound marketing initiatives.
Content Distribution
Writing relevant content is just the first step. You need to promote it too! Our content marketing efforts include finding the right distribution channels to get maximum visibility. We'll find the right platforms and build relationships with influencers to reach your target market.
From social media channels to collaborations, we scan the internet for potential link building opportunities and create an effective distribution plan, so your content online gains maximum visibility. And we don't just get excited with every distribution channel we find; we also measure the impact of our efforts in increasing website traffic and customer conversion.
Content Analytics & Reporting
We're not only focused on creating content but also on monitoring its performance and overseeing it over time to ensure that it meets your business goals. We generate reports based on the data collected from analytics tools and other sources so you can make better decisions for your content marketing campaigns.
Our favorite tool is Google Analytics, but we also use other services like Google Search Console, SEMRush, and Ahrefs. This allows us to analyze the performance of our content campaigns in terms of website traffic, keyword ranking, and more.
Amplify Your Content Marketing Strategy Today!
How does Content Marketing Help You Generate Leads?
Content marketing services can help you generate leads by attracting people to your website or blog and convincing them to take action—whether it is signing up for your newsletter, downloading assets, or making a purchase.
Profitable content impacts the research phase wherein the customer is sourcing information about a pain point and a potential solution. This is where your content comes in; you can use it to show the customer that your brand and product are the right fit for them. Relevant content can convince customers to engage and choose your brand over competitors.
In addition to this, you can use content marketing to nurture leads by providing more information that helps prospects move down the sales funnel. Well-thought-out content pieces like case studies and educational posts help you build trust with potential customers and establish your brand as a leader in your industry. Ultimately, it helps boost conversions and grows revenue.
The four stages of the content marketing funnel are awareness, evaluation, purchase, and delight.
Awareness: The first stage is where your target market becomes aware of your brand, usually through education-based content like blog posts, ebooks, or infographics.
Evaluation: The second stage is when your leads consider their options and look for more information to help them decide. This is where you should focus on content that provides additional value and helps them evaluate your products or services.
Purchase: Once your leads are ready to purchase, you need to provide them with the right kind of content so they can confidently choose your brand over others. This may include testimonials, reviews, demos, or even email sequences designed to persuade them.
Delight: Finally, even after your leads have purchased from you, it's important to continue providing useful content that keeps them engaged and encourages brand loyalty. This can be anything from newsletters with the latest industry news to free training sessions or webinars.
​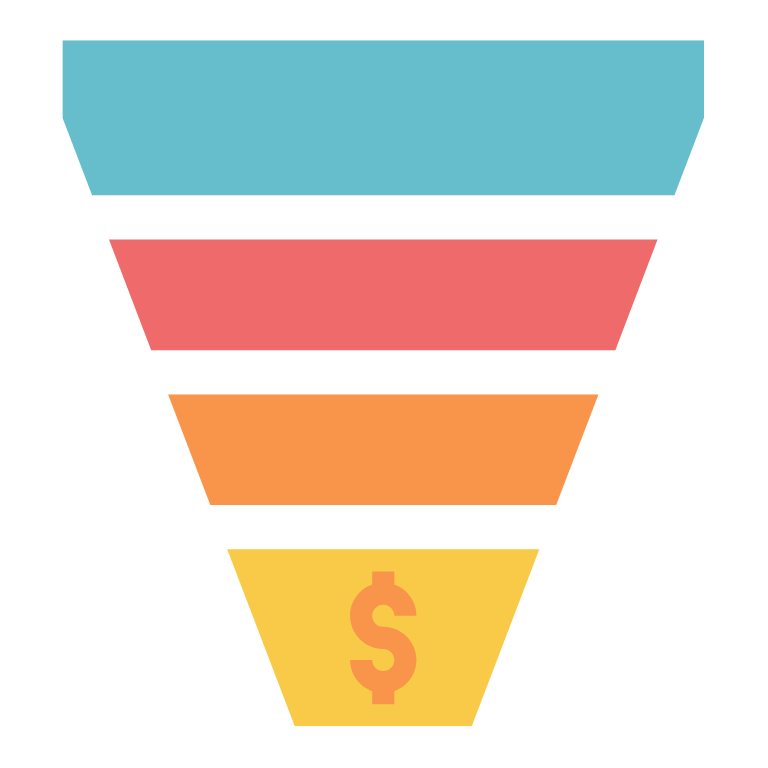 A well-optimized content marketing can help you move leads through the funnel and eventually turn them into customers. As you establish yourself as a reliable source of information, you'll see an increase in website visits, customer loyalty, and, ultimately, more leads.
Let's put it this way. Customer A finds your blog article related to a problem they've encountered. Customer A downloads your ebook about how to solve the problem. Now, you have an engaged lead who is more likely to take action and buy from you.
When done right, content marketing can also help build trust with customers, improve engagement, generate leads and sales, and ultimately grow your business.
My Content Marketing Process
Understand your business, your target market, and your marketing goals
Develop a content strategy based on your requirements and goals
​
Create high-quality, engaging content that is optimized for search engines
Distribute your content across various channels such as social media, email newsletters, guest posts, etc.
Monitor and analyze content marketing strategy results to improve performance over time
Why Outsource Content Marketing Services in the Philippines?
The Philippines is steadily becoming one of the top destinations for outsourcing content marketing services. Apart from being one of the largest English-speaking countries, Filipino digital content marketers can provide quality work at competitive rates.
The talent in the Philippines has a deep understanding of content marketing and how it works—wherever you are in the world. Since the birth of Business Process Outsourcing in the country, many Filipino professionals have excelled in all things digital, including content marketing services.
And with fluency in the English language, Filipinos have leveraged this to effectively communicate with clients. This makes it easy for both parties to align with a digital marketing strategy that impacts the bottom line.
With every business, communication is vital, especially when you're outsourcing content marketing services. The good thing is that today's technology allows us to collaborate easily. With tools like Slack and Skype, Filipino content marketers can work closely with their clients in different time zones, bridging the distance.
Hiring a content marketing company like It's a Writer's World can help small to medium-sized businesses to achieve their digital goals even when working with a budget. We understand how expensive digital marketing services can get, which is why we offer our clients an affordable content marketing service with above-par results.
Content marketing is more than just creating content; it's about delivering the right message to the right audience at the right time. With It's a Writer's World Content Marketing Agency, you have access to a brilliant content marketing team that works tirelessly to help you grow your business beyond borders.
Not sure if outsourcing your
content marketing services
is the right move for your business?
Schedule a Quick Call with our Marketing Manager Today!
What are content marketing examples?
What is the difference between content marketing and copywriting?
Content marketing is a strategic approach to creating and distributing valuable, relevant, and engaging content to attract and retain customers. Copywriting is the act of writing compelling, persuasive, or interesting text that sells or promotes a product, service, or brand.
What are the 4 pillars of content marketing?
The 4 pillars of content marketing are: content marketing strategy, creation, distribution, and measurement.
What is the best content marketing strategy?
The best content marketing strategy is the one that works best for your business. There is no one-size-fits-all solution. Every business is different, and so are its customers. The key is to find what works for you and your business, and that's how the best content marketing agency can help you.
What are the benefits of content marketing?
Some of the benefits of content marketing are: increased website traffic, higher conversion rates, improved SEO rankings, more engaged customers, increased brand awareness and recognition, and lower cost per lead generation. It seamlessly complements your digital marketing efforts, not just search engine marketing.