Originally published September 2018, Updated November 2022
Google's Helpful Content algorithm update last August has shaken up a lot of search engine optimization (SEO) strategies. When Google says it would prioritize only one type of content, namely helpful content, you have no choice but to take them at their word. And this is not even the first time Google has done this. In the past couple of years alone, Google has either disavowed links or made changes in its algorithms that have made things harder for SEO experts and content marketers.
This made having a content strategy even more crucial. After all, developing one is not an easy task, nor is it something that you can do overnight. It takes time and effort to craft a winning SEO content strategy that will help you optimize your website and content for search engines; generates leads from potential customers; increases engagement on social media platforms; and ultimately improve your bottom line.
Personally, I've seen a lot of clients who insisted to push back on creating content due to a lack of resources. They would just throw up whatever content they can and hope for the best, assuming their website's ranking and organic search visibility would improve in time. But this is not how things work at all.
I've also encountered some who have basic SEO knowledge and create content based on their target keywords without a strategy. It usually ends like this:
The title is super generic—for example, Blocked Drains—which doesn't tell the audience what specific area of blocked drains the article will cover and why they should care about it.
Super short content that's just made up of a few hundred words.
Irrelevant and untargeted keywords. For example, "clearing blocked drains," which is not even something that people search for on Google every day.
Keyword stuffing—using the keyword too many times throughout the content to try and game the system.
No calls to action.
No promotion of the content.
No social media share buttons, no backlinks from other websites, nothing.
Even before Helpful Content, we've constantly been reminded by Google to put user intent first and to focus on providing value to our audience. Google's updates have only reinforced these concepts, making it even more important for us to prioritize our readers over anything else.
Publishing relevant content that speaks directly to your target audience is the key to developing a successful content marketing strategy. But what exactly constitutes high-quality content? How can you ensure that your readers find value in your blog posts and keep coming back for more?
In this guide, I've outlined a quick process on how to create a successful content strategy for your website and social media. This includes tips on how to find the right topic ideas and keywords, how to create engaging content that readers will love, how to promote your posts across social media platforms, and many more.
So if you're ready to take your content marketing game up a notch, then keep reading!
What is a Content Marketing Strategy?
A content strategy is a plan to use different types of content (audio, visual, written, etc.) to help you achieve your business goals. A good content strategy will bring in your target audience at every stage of the buyer's journey and keep them interested even after they make a purchase.
If you one of your business objectives is increasing brand awareness, an SEO strategy focused on content can help you achieve this. This strategy would make your website more visible on the search engine results pages (SERPs), which could increase organic traffic to your products or services.
Many new business owners mistakenly believe that content strategy is something they can worry about later on. However, producing high-quality content early on can be invaluable in building trust with new audiences and ensuring long-term success.
A content strategy is the core of your inbound marketing framework— particularly during Attract and Delight stages of your sales funnel. Not only will it help you bring in potential customers, but you can use it to support sales enablement, customer satisfaction, and brand loyalty.
With content marketing being a top priority for 70% of marketers, it's more important than ever to have a strong content strategy if you want to stay competitive in your industry.
Now that we know what a content strategy is let's answer a few questions so you can develop your own.
1. Who is your target audience? Who should read your content?
Who is your target audience for your content? How many different audiences are you creating content for? Your business might have more than one type of customer, and your content strategy can reflect that fact. By using a variety of channels and content types, you can deliver material that appeals to each persona.
2. What issue will you resolve for your target audience?
Your product or service is at its best when it solves a problem for your audience. In the same way, you should publish content that teaches them about this problem and how to identify and address it.
A content strategy that is well thought out benefits both your current and potential customers. Create usable content that provides direction for those who are still trying to identify their main challenges and helps those who are already using your product find solutions to overcome these. Not only should your blog posts provide solutions to common problems, but it also helps you establish trust between you and your audience.
3. What makes you unique?
If your potential customers are undecided between you and a competitor, they'll likely choose the one with the more impressive product. This is why it's essential that you make sure yours stands out.
You can't just tell your audience why they should buy from you—you need to show them why you're worth listening to in the first place. Once you know how to do that, make sure that message is clear in all of your content.
Conducting market research can help you get a better understanding of your target audience and what they need from you. It's also important to stay up-to-date on trends in your industry so that you can create content that's relevant—which, in the end gives you that authoritative image.
4. What content formats will you focus on?
the common misconception about content marketing is that it only strictly discusses blog posts. There are multiple content formats you can use to reach your audience, including videos, social media posts, graphics, original research, images, white paper and reports, podcasts, checklists, email newsletters, ebooks, webinars, and polls and quizzes.
For example, many online publications love to feature infographics, which are more likely to be shared and liked than just text or a video alone. And if you're looking for something that's totally unique, try creating an interactive content experience—as Buzzfeed has done many times. This depends on the industry you're in, but if your target audience is looking for infographics and images, then it may be best to create those.
The content formats you should focus on will likely depend on your business objectives and your intended audience. So do initial research before deciding on what to focus on, and make sure that it effectively reaches your target audience.
5. What channels will you publish on?
You can format your content in different ways to fit the various channels you want to publish it on, from social media channels like Twitter and Facebook to more traditional outlets like your website or blog.
To effectively communicate with your audience, it's important to consider where they spend their time online. If your target demographic prefers watching longer videos, you may want to post your content on YouTube. On the other hand, if you're trying to reach a younger audience that likes quick and easy content, you should focus on TikTok or Instagram instead.
This is where a content audit comes in handy. By understanding which of your existing content meets your success metrics, you can trim down the pieces that do not and focus on creating more of what does.
6. How will you manage the creation, publication, and content distribution?
Content management is an ongoing process that requires a lot of effort and dedication. You will need to develop an editorial calendar that outlines the dates, times, topics, and channels you'll publish at certain intervals throughout the year.
Start by thinking about your marketing strategy for the year—what are your key objectives? Where does this align with your goals? How about your content production, publication, and distribution?
Once you have your timeline in place, you'll need to develop a content strategy to ensure you can produce content that is consistent with each other and supports the overarching messages that you want to convey. This includes creating an editorial style guide so your content teams have a clear idea of the voice and tone they should be using.
If you're a small business owner, it can be not easy to manage all of these tasks on your own. One option is to outsource some or all of the work to an external agency specializing in content management.
Ultimately, content marketing efforts should be consistent. Content creation should always cater to search intent and provide value to your readers while maintaining a consistent publishing schedule across all channels. With the right content and SEO tools and processes in place, you can market your content effectively and grow your business.
As you begin to plan your content strategy, be sure to keep these key questions in mind. By figuring out the answers to each one, you can create a clear and effective content marketing plan that will help you reach your audience and meet your business goals.
Learn from the best in the business
Why Marketers Need to Create a Content Marketing Strategy?
The answer is pretty straightforward. A content marketing strategy that is well thought-out helps align your marketing efforts with your business goals. It is easy to get generate content ideas, but it is difficult to determine which ones will resonate with your audience.
Without competitive research and a content strategy that supports this, you'll end up with blog posts that are unlikely to drive traffic or generate leads. A content marketing strategy will help guide your efforts, ensuring that you create compelling content that's engaging, useful, and caters to every stage of the buyer's journey.
Another key benefit of having a clear content marketing strategy is improved efficiency. As it is aligned with your business model and marketing goals, the strategy can help you make decisions quickly and effectively.
For example, your content might include paid promotion to reach more people or support other marketing activities like email campaigns. Having these objectives clearly outlined in your strategy will allow you to allocate resources effectively so that all parts of your marketing funnel work together to achieve your goals.
Overall, a content marketing strategy should be one of the core elements of your overall marketing plan. By creating a clear and consistent message and identifying the right distribution channels to promote content, you can build relationships with your audience, drive engagement and website traffic, and generate leads that grow your business.
How to Create a Content Strategy Framework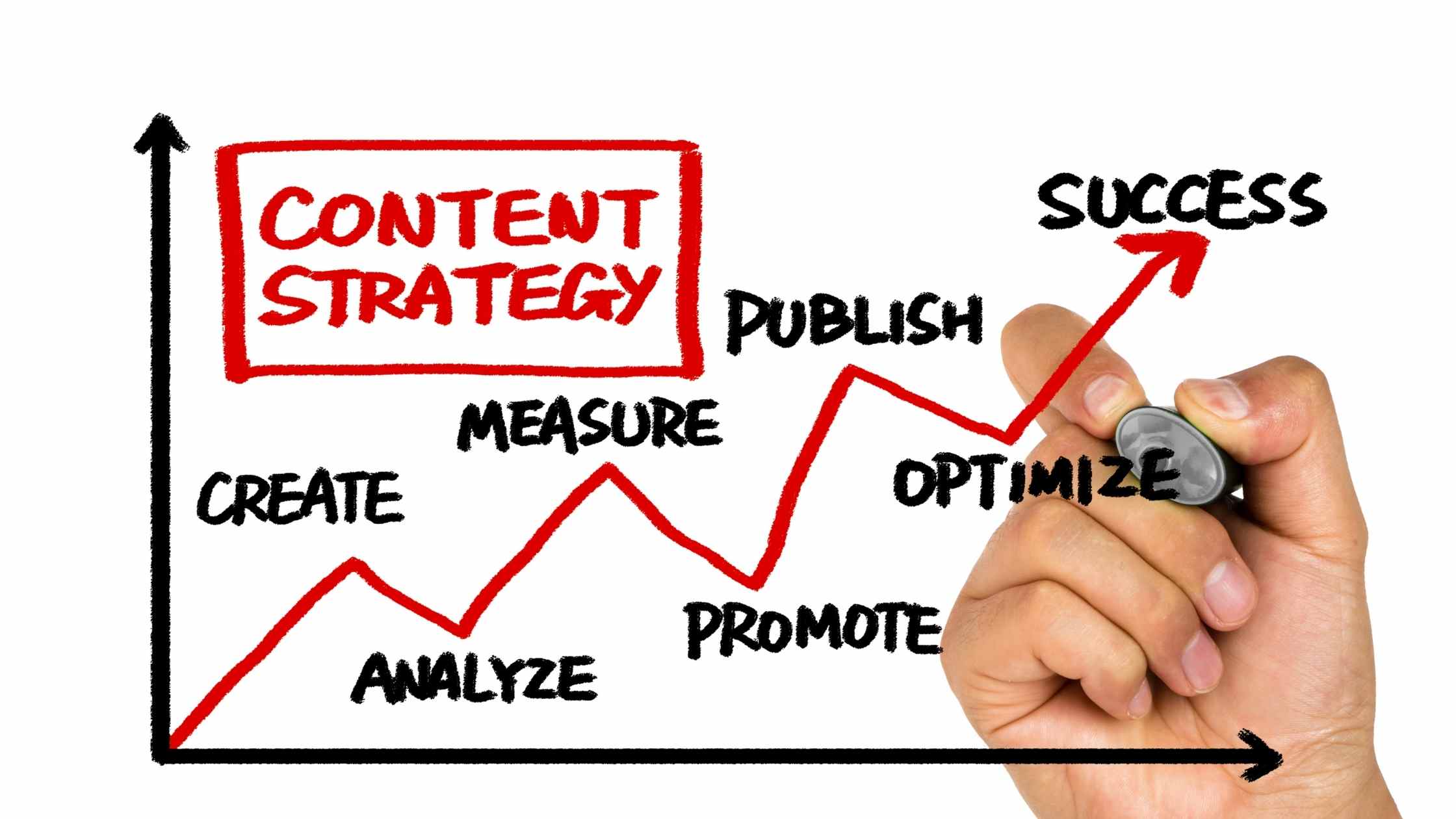 Here's a step-by-step guide on how to create a content strategy.
1. Define your goal.
What is your goal for creating a content marketing strategy? Why do you want to write and distribute content? Define your objectives before you start plotting, and it'll be more straightforward to work out what's best for your content strategy.
The best way to start is to conduct some initial research. What are other industry blogs doing? What content formats and topics keep their audience engaged? How does that align with your goals and target market?
You can also look into your own audience insights through Google Analytics. What actions does your audience take when they read your blog posts? What topics do they engage with the most? Do your readers convert to customers after reading your content?
It's also advisable to identify different goals for various content strategies. As I've mentioned, content is not confined to your weekly blog post. Content production spans across multiple channels where your audience consumes your content. By defining the purpose of each channel, you can create content strategies that are tailored to the needs, mindsets, and behavior of your audience at every stage of the sales funnel.
2. Conduct persona research.
Once you've defined your audience and identified their behaviors, it's time to create personas that represent the different types of readers interested in your content. It is crucial to know your audience when you are starting out in marketing. By producing content that is relevant and valuable to them, you will be more likely to convert them into paying customers.
Start by researching your existing customers, such as through surveys or interviews. What are their demographics and psychographics? How do they find out about new products, services, or businesses?
Then, expand your research to the broader audience that you want to reach. For example, if you're a B2B company targeting other businesses, you may look at organizations in your industry and their organizational structures. If you're selling consumer products, think about where your target customers shop or hang out online.
When generating personas for this stage, focus on the goals and demographics of your audience. For example, a B2B business selling to other businesses might include:
Industry: manufacturing, engineering, construction
Job title: manager or director level
Goals: drive revenue growth, reduce costs
Challenges: decision makers are hard to reach through traditional marketing channels
Preferred content formats: case studies, white papers, webinars
Preferred channels: email marketing, online ad campaigns
3. Understand your customer journey.
Every business has a unique sales cycle and buying process that varies depending on its audience and industry. Before you start defining the steps in your content strategy framework, it's important to understand how your audience engages with your content and moves through the customer journey.
To do this, start by mapping out the different stages of the buyer's journey: awareness, consideration, and decision. The goal and content formats that work best with your audience differ at each stage.
For example, when people are first discovering your business, they are likely looking for information and education to help them understand the issue or need that their problem is trying to solve. This means that blog posts, ebooks, and webinars will be more effective at this stage than ads.
As people become more familiar with your brand, they may start exploring different options. This is when content like case studies, product demonstrations, and webinars work better than blog posts or ebooks.
When people are ready to make a purchase decision, they want to see that other customers and brands have had positive experiences with your business. At this stage, testimonials and case studies will be powerful lead-generation tools.
4. Run a content audit.
Your existing content can have a huge impact on the success of your content strategy. Remember, you don't need to start from scratch when creating content for your audience. Instead, you can repurpose and update old content to align it with your goals and objectives at various stages in the sales funnel
Start by doing a content audit that analyzes what's out there and how it's performing. You can use a tool like BuzzSumo or Google Analytics to look at what content has performed best in the past in driving organic search traffic, as well as which formats, channels, and keywords are driving the most engagement.
You can also do a competitive analysis to see what your competitors are doing well in terms of their content marketing strategies and approaches. This can help you identify gaps in your content strategy that you might be able to fill with your own content, or ideas for new content formats and topics to explore.
5. Choose a content management system.
There are a variety of different CMSes that can help you achieve your content goals, so it's important to find one that aligns with what you need. A few examples of CMSes are WordPress, HubSpot, and Squarespace.
When choosing a CMS, consider factors like your budget and technical expertise. You should also think about how easy it is to use the platform, whether or not you have access to an internal team of developers, and what other features and integrations are available.
Some of the key elements you should take into consideration should include:
Cost: Does the CMS fit your budget? Some platforms are free, while others charge a monthly or annual fee.
User-friendliness: Is the platform easy to use? Can you find and create content quickly, and do you have full control over its design and layout?
Accessibility: Can you publish content from anywhere, and can it be easily accessed by both internal employees and external customers?
Security: Does the platform offer strong security features that protect your data and ensure privacy for your users?
Once you've chosen a CMS that suits your needs, it's easier to plan your content calendar and build your content strategy. This is especially important for small teams who have limited resources.
In my experience, client websites with WordPress as CMS consume much less time in terms of content updates. Since WordPress is so user-friendly and doesn't require technical coding (it's basically drag and drop), even those with very limited technical knowledge can upload content onto their websites.
However, websites that utilize a more complicated platform can take longer to load and may often require the help of a web developer, which can postpone your editorial calendar.
6. Determine which type of content you want to create.
If you're not sure what content to create for your audience, don't worry—there are a ton of options. You can go the traditional route with a blog post, or get creative with audio content like podcasts or infographics.
When determining the type of content to create, it's important to think about your audience's needs and preferences. For example, if your target market is millennial women who love social media and enjoy watching videos online, then a video-based content strategy might be a good fit.
You can also take a look at your competitors' content strategies to see what's resonating with their customers. By understanding what content is resonating with your audience, you can save time by knowing what topics to write about.
7. Brainstorm content ideas.
Your content ideas should vary according to the platform you're using and the goal. For example, if you're looking to increase Google search visibility, the best way to populate your editorial calendar with content ideas would be doing keyword research.
Keyword research can help you identify search terms and topics that your customers are actively looking for. Look into informative keywords with significant search volume and medium to low competition. You can then use these keywords to optimize your blog post and website content around them, which can help boost your search rankings over time.
It's a different route when you're looking to boost engagement on social media. In this case, it might be more effective to start with your customer persona and then create valuable content that caters to their interest.
8. Identify your content lifecycle management.
Content lifecycle management is managing content from its planning, authoring, promotion, assessing, and maintenance. Therefore, you need a solid content team to help you manage your content calendar effectively.
Once you have a documented strategy, you can start assigning tasks and responsibilities to your team. When assigning content tasks, it's important to consider each team member's strengths and weaknesses.
For example, if you have an employee who is skilled in writing but not so great with video production, you might decide to assign them a blog post while someone else works on the corresponding videos.
Content marketing is a complex task, so make sure you have a point person for each task to ensure that everything gets done and nothing falls through the cracks. Ideally, you should have the following experts on your team:
SEO specialist: conducts keyword research and helps optimize content for search engines
Content strategist: creates the content calendar, develops content strategy, and oversees the editorial process
Content writer: writes the actual content for your website and blog posts
Graphic designer: creates visual elements such as infographics, videos, or memes
Social media manager: oversees social media marketing efforts and promotes your content on various social platforms
Content marketer: creates a marketing strategy to promote your content, build brand awareness, and increase sales
Web designer and developer: improve the landing page design and ensures that your website runs smoothly and is optimized for mobile devices.
Remember to also be flexible and adapt your content strategy as needed. As you and your team gain more experience with your chosen CMS, you'll likely come up with new ideas and learn new ways to increase engagement and improve results.
At the end of the day, an effective content marketing strategy requires careful planning, communication, and collaboration among team members. So make sure you've established clear roles and responsibilities.
9. Define how frequently you want to publish.
If you have a small team, always choose quality over quantity. Posting top-quality content consistently is a better strategy than posting low-quality content frequently. This goes for both your website and social media content strategy.
However, if you have the resources to create and promote more content regularly, that's also perfectly fine. Just be sure that each piece of content fits into your overall marketing strategy and aligns with your larger objectives.
10. Plan your distribution channels
Now let's talk about distribution. Content Distribution is sharing content with online audiences across multiple channels. These channels can be divided into three categories: Owned, Earned, and Paid.
Owned channels typically include your website, blog, and social media profiles. These are the channels that you control and manage, so it's a good idea to use them first to publish your content.
Earned channels include external news websites, video-sharing sites, blogs, or other online publications that may be interested in publishing your content. You'll have to pitch your content to these third-party sites, but if you do it well and your content is valuable, they may share it with their audiences.
Paid channels include paid ads on Google Ads or Facebook Ads. You can also explore other advertising platforms, such as LinkedIn ads or Twitter Promoted Tweets if that's where your audience spends a lot of time.
Distribution is essential in content marketing as it supercharges your content's reach, visibility, and impact. So be sure to plan out your distribution strategy in advance to ensure that your content gets in front of the right audiences at the right time.
11. Monitor your content performance.
As your content strategy unfolds, you'll need to track how each piece of content is performing.
You can use various tracking tools to monitor engagement metrics such as shares, comments, and replies on social media pages. You may also want to track organic traffic to your website or blog, as well as conversions such as downloads of ebooks or signups for your newsletter.
Not only will this allow you to assess how effective each piece of content is, but it will also help you identify what keeps your audience interested and what may need improvement. Eventually, this will help you refine your content strategy and turn it into a lead-generating machine.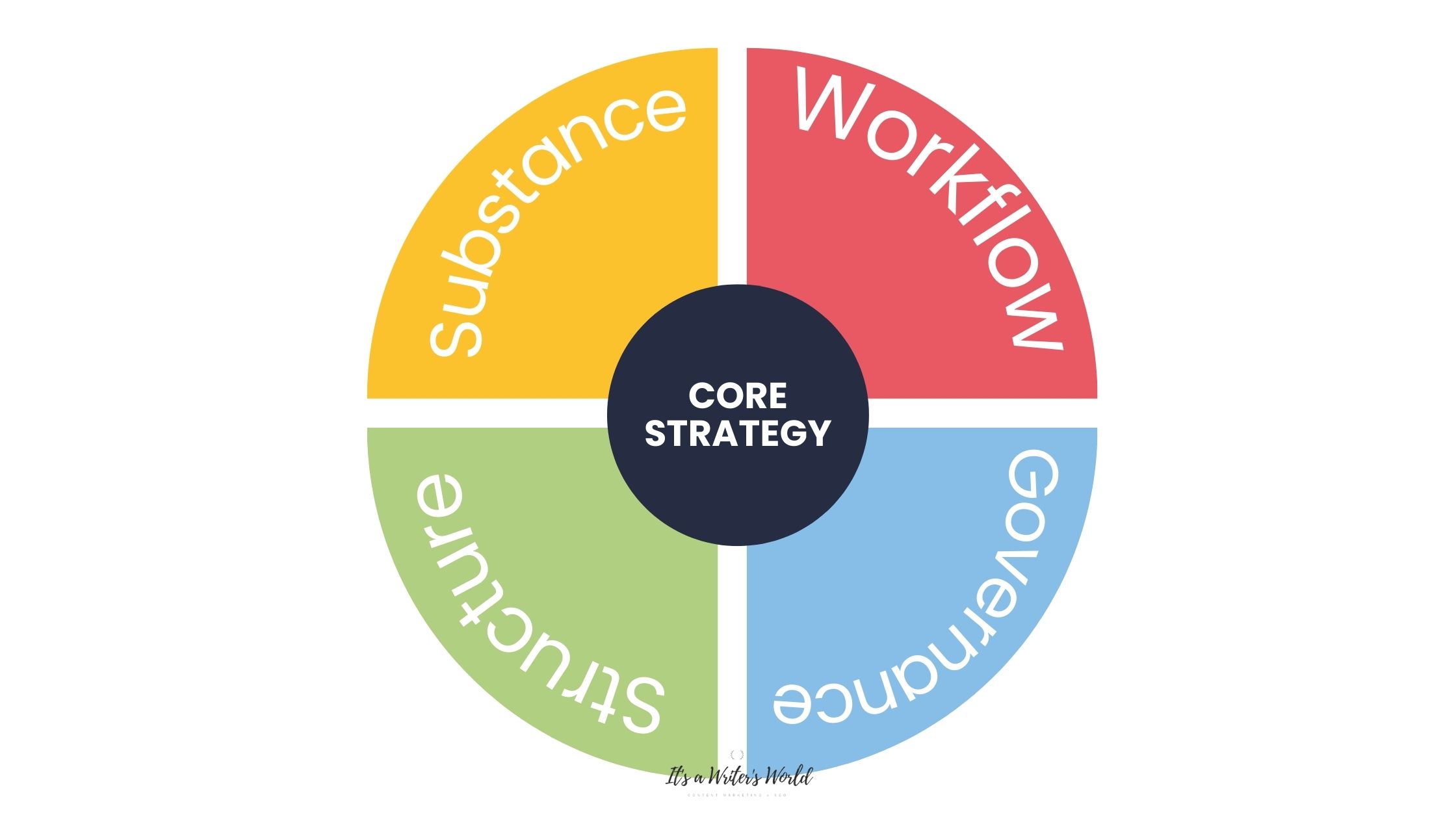 How Often Should I Update my Content Marketing Strategy?
The frequency with which you update your content strategy will depend on several factors, including the size and scope of your business, the resources available to you, and your overall objectives. Generally speaking, it is best to review and refresh your content marketing strategy at least once or twice per year. This will allow you to identify any new trends, opportunities, or challenges impacting your business.
If you're just getting started with content marketing, then it's a good idea to evaluate your content strategy on a monthly or quarterly basis. This will give you the flexibility and time to make tweaks and adjustments as needed without feeling overwhelmed by all of the changes happening around you.
One thing to keep in mind is that the content marketing landscape is constantly evolving, and so it's important to stay up-to-date on the latest trends and best practices. By reviewing your content strategy regularly, you can make sure that your content remains relevant and effective over time.
Attract more customers with a great blog!
In a Nutshell
In summary, when developing a content strategy, it's important to focus on quality over quantity. You should also plan out your distribution channels in advance and monitor your content performance to spot any trends or opportunities. With these tips, you can create a successful content strategy that aligns with your goals and generates real results.
Do you need help with your content strategy? It's a Writer's World can help! I am an experienced SEO and content marketing expert based in the Philippines who have worked with numerous businesses to produce effective content that drives traffic and boosts conversions. Contact me today for a free consultation!
Content Marketing Strategy FAQs
What are the three components of content strategy?
Content strategy isn't successful without these three things: brand focus, user experience, and content distribution. Brand focus is the heart of your strategy since it helps you define your audience and goals. User experience guides the creation process to ensure that your content provides the best possible experience for your users. And content distribution involves getting your content in front of the right people at the right time, usually through various online channels.
How do you create a good content strategy?
There is not a single right way to make a content strategy. Nevertheless, crucial factors to think about are defining your target market and objectives, understanding your competition and their content approaches, and deliberately mapping out where you will distribute your content in advance.
What is the role of a content strategist?
A strategist is responsible for creating and implementing a cohesive content strategy that aligns with overall business goals. This often involves conducting thorough research, evaluating analytics data, and collaborating closely with other marketing teams to ensure that the content meets user needs and helps drive desired outcomes.
How can I improve my content marketing strategy?
There are many different strategies and tactics that you can use to improve your content strategy. For example, you can focus on producing content by hiring expert writers or editors, investing in tools and technologies to help with the creation process, and leveraging data-driven insights to identify growth opportunities. Additionally, it's important to stay up-to-date with the latest trends in content marketing to adapt your strategy as necessary.
What is the goal of a content strategy?
A content strategy's primary objective is to produce material that interests your target market and furthers your business goals.