Adelaide Conveyancing and Law Firm showed a staggering 37.52% and 53.85% increase in clicks and impressions
For a renowned Adelaide Conveyancing and Law Firm, the struggle was real. Despite their extensive history and industry leadership, capturing the local online market was a challenge they couldn't break through—until we stepped in. Our collaboration from January to September 2023 marked a turning point in their digital presence, significantly boosting their local SEO standings and, consequently, their market reach.
About the Law Firm
Established in 1976, the firm has been a cornerstone of property and legal services in South Australia. With over 45 years of dedicated service, they've not only earned a reputation for excellence but have continuously expanded their offerings.
From conveyancing to intricate legal matters, their expertise is vast, backed by strategic acquisitions and technological investments since 2021. Their commitment is unparalleled, providing comprehensive services to anyone within the property industry spectrum.
The Challenge
Despite their solid background, the firm's online visibility was lagging. The digital realm had shifted the playing field, and the local SEO game was one they hadn't mastered. They were missing out on substantial organic traffic, their website was plagued with technical setbacks, and their content strategy was non-existent. In short, their digital persona starkly contrasted with their real-world dominance.
Firstly, the firm's low SEO activity significantly hindered its search engine visibility. Without ongoing SEO efforts—including keyword optimization, regular content updates, and adherence to the latest SEO best practices—the firm's website couldn't compete with more digitally savvy competitors.
Moreover, the general neglect of technical and on-page SEO efforts compounded their invisibility. Technical SEO ensures that a website meets the technical requirements of modern search engines, emphasizing site speed, mobile-friendliness, and structured data. On the other hand, on-page SEO involves optimizing web page content for relevant keywords and providing a high-quality user experience. The firm's oversight in these areas signaled to search engines that the website was less valuable, consequently affecting its ranking.
The lack of content strategy is also alarming—particularly the lack of blog articles incorporating target keywords. By not producing articles on topics relevant to its services, the firm missed opportunities to showcase its expertise, attract organic traffic, and capture potential clients' attention. While discussing industry trends is beneficial for branding, creating comprehensive guides and resources is essential for ranking for specific, often-searched keywords. This type of content drives traffic and establishes the firm as an authority in its field.
Lastly, the firm's online authority was further weakened by a scarcity of backlinks. A robust backlink profile often translates into better search visibility and higher domain authority.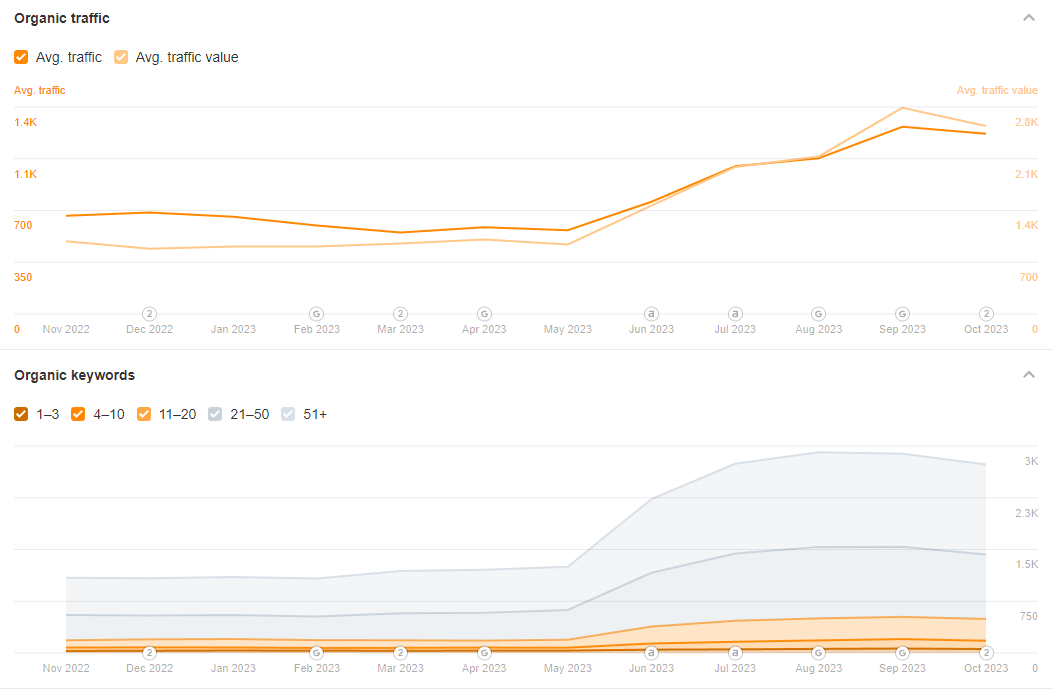 Where I Rocked
Rolling up our sleeves, we dived into an intensive SEO strategy overhaul from January 2023. Here's the breakdown:
Technical Fixes: We first tackled site errors, including the dreaded 404s, and boosted site speed, which is essential for user retention and satisfaction.
On-Page SEO: The meta tags, page titles, and descriptions underwent a keyword-focused transformation, making each page a potential landing spot for organic traffic.
Content is King: We revamped service pages, emphasizing their flagship conveyancing services, and introduced schema tags for FAQs, enhancing visibility on search engine results pages (SERPs).
Blogging with Purpose: A regular blog content calendar was established, positioning them as industry thought leaders and a go-to resource for property and legal advice.
Local SEO: Their Google Business profiles were optimized, and consistent posting across all locations was initiated, essential for capturing the local market.
Authority Building: Through strategic link building, including citations and guest blogging, we enhanced their online authority—an SEO currency you can't buy.
Review current target keywords and compare them with the competition
I've run their competitor's website with an SEO tool and checked what keywords they are using for their subpages and blog articles. We've generated topic clusters inspired by their competitor's keywords.
Content Keyword Optimization for Existing Content
I've identified pages that needed more content to improve visibility and organic traffic. By running it through SurferSEO tool, we've optimized the existing content to achieve the best score.
Internal Linking Implementation
The site already had a handful of content that were independent of each other. Proper internal linking was implemented which signaled Google the relevance of the pages to each other. Thus, improved rankings.
I've improved their location targeting by enhancing their content on their location pages. On the off-page, I've optimized their citations (business listings) and most especially regularly posting on their Google Business Profile.
I've run their website through Screaming Frog and SEO Tools like Ahrefs to uncover site errors. I've also monitored their Google Search Console data for site health.
Optimized Title Tags and Meta Descriptions
The last step was to optimize the title tags and meta descriptions of their top-level pages. Not only did I implement target keywords, but I've also enhanced its click through rate. 
Start Your Success Story. Hire an SEO Expert Today!
Struggling with online visibility? See how we revolutionized a leading Adelaide firm's digital reach through innovative SEO strategies. Their journey from obscurity to market dominance reflects our expertise. Don't stay hidden; let 'It's a Writer's World' craft your success story. Hire us for standout SEO and content solutions!
ORGANIC TRAFFIC STATISTICS (9 MONTHS ANALYSIS)
2023 CLICKS AND IMPRESSIONS GROWTH PERSPECTIVE (AUSTRALIA)
The results? Nothing short of impressive. From January to September 2023, we saw a 25.64% surge in organic clicks and a 15.88% rise in impressions versus the previous period.

CLICKS AND IMPRESSIONS GROWTH PERSPECTIVE (YEAR VS YEAR)
The real kicker was the period from July to September 2023, where year-on-year comparisons showed a staggering 37.52% and 53.85% increase in clicks and impressions, respectively.

AUSTRALIA ORGANIC TRAFFIC GROWTH (VS PREVIOUS YEAR)


Moreover, organic users grew by 25.67%, and sessions shot up by 34.54%. This indicates a substantial increase in engaged, quality traffic to the website. The growth in organic users suggests that more individuals are naturally finding the site through search engines, a sign of effective SEO practices. The rise in sessions, especially at a higher rate, points to the content's relevancy and value, encouraging visitors to spend more time and interact with the site, potentially leading to higher conversion rates. This synergy of growing organic users and increased sessions is pivotal for enhancing online visibility, credibility, and business success.
Conclusion
This Adelaide-based law firm's journey from digital obscurity to local SEO prominence was no accident. It was a calculated, strategic, and expertly executed plan that considered every facet of modern SEO. The firm now enjoys a level of online visibility that mirrors its real-world reputation. And this case study stands as a testament that with the right strategies, expertise, and execution, even the most established firms can rediscover themselves in the digital world.
World Class SEO Services,
Filipino Affordability.
Book a Consultation here.