Google My Business—now called Google Business Profile—is a free tool that allows businesses to manage their presence across Google's host of products, including Google Search and Maps.
While digital marketing involves an expansive number of sub-disciplines, there are specific parts of your efforts that you can bank on to secure online success. A complete and updated Google Business Profile is one of them.
If you're new here, welcome! This is an in-depth guide to optimizing your Google Business Profile for 2022.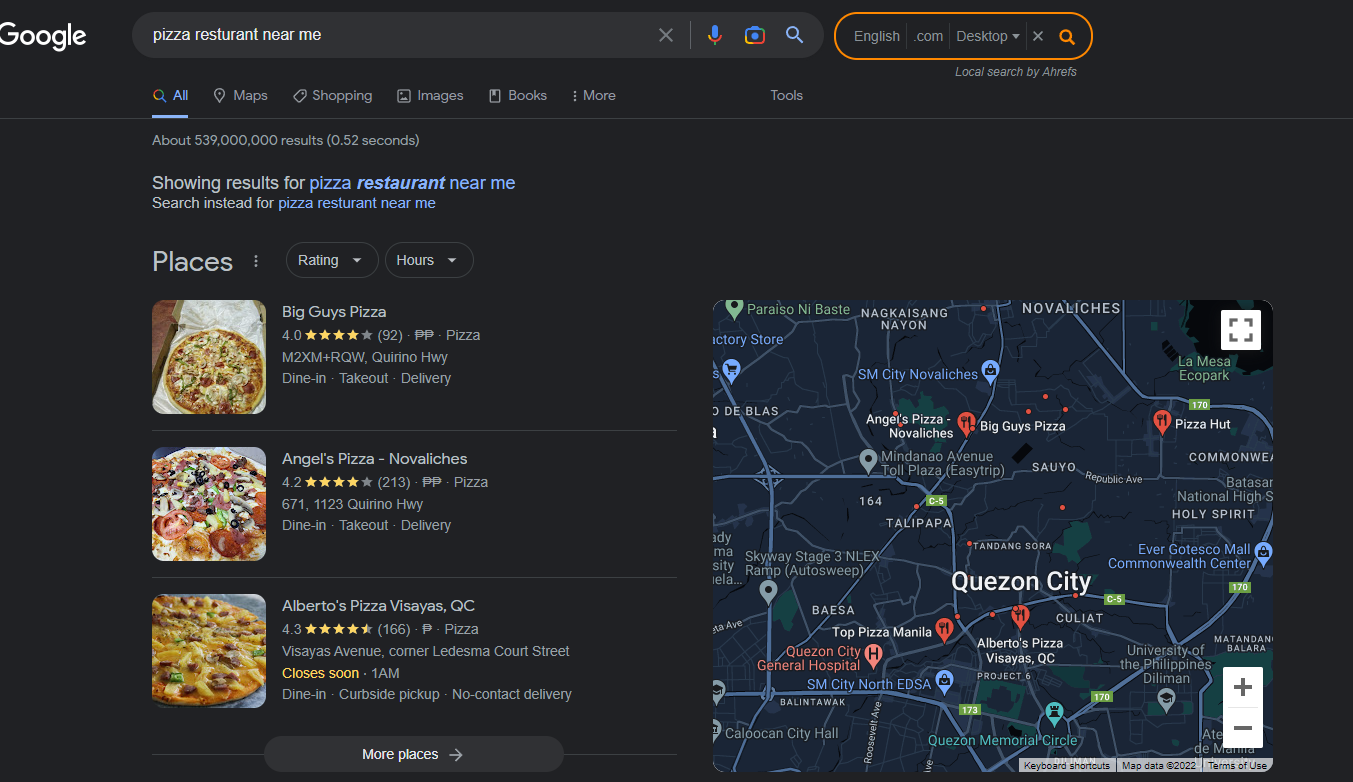 What is Google Business Profile?
Google Business Profile is like an online business directory. As Google puts it, it's an easy-to-use tool for businesses and organizations to manage their online presence across Google. It offers the greatest advantage for brands seeking local exposure. It allows you to add your business name, location, and business hours online, respond to customer reviews, add photos, and show up in relevant searches when users are looking for local businesses near them.
Setting up a Google Business Profile is essential for any local business these days. Location-based searches or "near me" searches have increased by more than 200% in the past. Users who are searching for a product or service near them are usually already close to making a purchase — about 88% of users who conduct a local search visit a store within a week.
To take advantage of these trends, optimize your Google Business Profile listing to boost its probability to appear near the top of local SERPs and rank in category searches.
Is Google Business Profile Free?
GBP is completely free to use. You can set up a profile even if you don't have a storefront so long as you make in-person contact with your customers. Besides restaurants, health clinics, salons, and stores, businesses that offer services in other locations such as consultants and plumbers can also benefit from having a GBP listing.
Google Business Profile Optimization Checklist
When a user searches "nail salon near me", Google will return with a top three list of relevant nail salons. This is called the Local 3 Pack which shows up at the very top of the search results.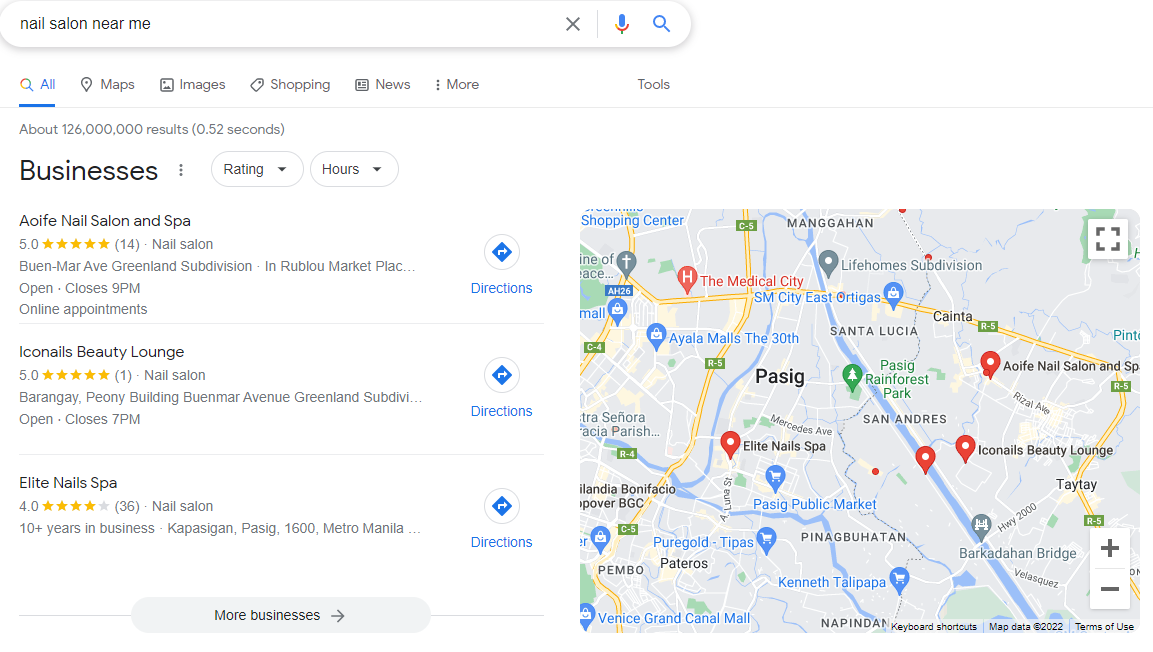 It beats other results from other online business directories such as Yelp, Booky, and Trip Advisor. This is where you want to rank in — the local map pack — and to do so, you need a well-optimized Google Business Profile listing.
How to Set Up Google Business Profile
Step 1: Log into the account you want to associate with your business or create a new Google account.

Step 2: Add your business. If your business name doesn't appear in the drop-down menu, click Add your business to Google. Then select the appropriate business category and click Next.

Step 3: Enter your address. You may also be asked to position a marker for your location on the map. If you do not have a business location customers can visit but offers in-person services or deliveries, list your service areas instead.

Step 4: Fill in your contact information. These include your contact number and website address where customers can reach you. Adding a phone number is optional if you prefer to not be reached by phone.

Step 5: Verify your business. There are several ways to verify your GMB listing:
By postcard
By phone
By email
Instant verification
Bulk verification
Getting verified can take up to seven business days. After that, it can take a few weeks for your updated business info to reflect across Google.
Step 6: Customize your profile. After verifying your business, you will then be redirected to Google Business Profile Manager where you can add more information to your listing. From here, you can set business hours, enable messaging, add specific services that you provide, and more.
How to Optimize Your Google Business Profile
Before we get further into the strategies, let's take a look at what an optimized versus incomplete business profile looks like.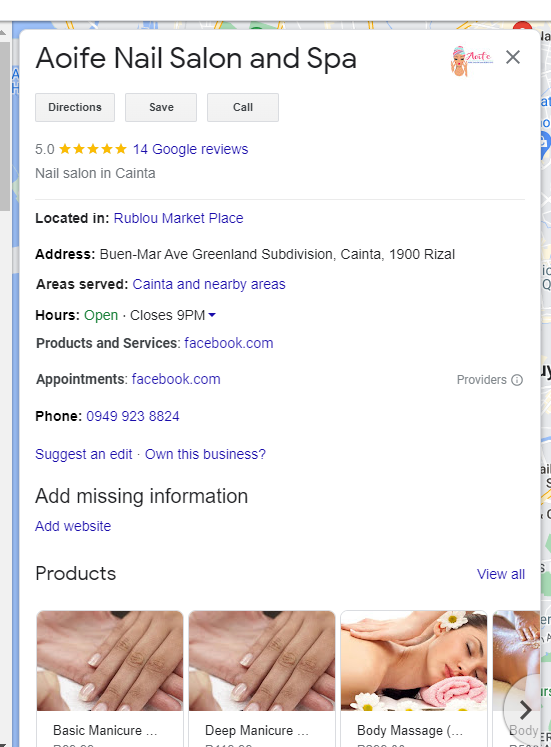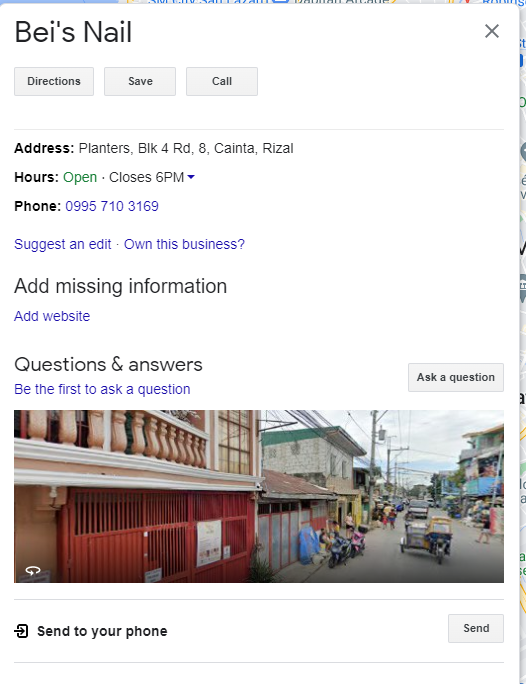 An incomplete Google Business listing is a short box with nothing much to show. But a well-optimized one looks more attractive and would show more when you scroll. Although the image doesn't encompass all of the features of an optimized profile, it already gives you an idea of how it can make your business look more attractive, credible, and trustworthy.
It is why it's important that you fill in as much information and media as possible to your listing. These include images, your location or the areas you serve, business hours, the day and year you opened, contact number, and website URL. Attributes — which we will further discuss below — also provide more context about your business and the services you offer.
1. Complete your profile
Notice how, most of the time, the listings that appear on the Local 3 Pack have a well-optimized profile? It's because businesses with as complete and accurate information as possible are easier to match with relevant searches. The key here is to tell users what you do, where you are, when they can visit, how they can make a purchase or book a service, and preferably what your customers say about you.
Another reason to complete all elements of your profile is that customers are 2.7 times more likely to see your business as reputable if you have a complete listing. They are also 70% more likely to visit you.
2. Add keywords to your profile
Including relevant keywords and phrases in your profile — in the business description and in your Local Posts — will improve relevance. You can use tools like Google Trends or Keyword Planner to discover new keywords related to your business.
Make sure to incorporate keywords naturally throughout your profile. Otherwise, stuffing keywords or using irrelevant ones can be counterproductive and hurt your rankings instead.
3. Keep your information accurate and up-to-date
It's essential that you include all the necessary information in your profile, but it's equally necessary to update them whenever they change.
Edit your business profile to reflect any changes in your business hours, contact information, etc. This is particularly important during holidays and other special events when you may have special hours. You can also publish posts on your profile to share updates, offers, and events.
4. Add photos and videos
Business Profiles with photos get 35% more clicks to their website and 42% more requests for directions on Google Maps. It means images not only make your listing more attractive but also get you more customers.
You can add photos in the following categories of your listing: logo, cover photo, and business photos. Make sure to include the highlights of your business such as your storefront, products, and services. They should be at least 720 pixels in width and height, and in JPG or PNG format. View here for Google's complete guidelines about business photos.
5. Ask for reviews
People trust other people more than they trust businesses. Reviews allow them to gain insights about a business and its products or services and can be a deciding factor on whether or not they will engage with you. Another reason you should also encourage reviews is that they also improve your Google rankings.
Your window to ask for a review is after a successful transaction. Make sure to actively respond to reviews as well, regardless of whether it is positive or negative. This says much about your brand and personality — taking the time to respond reflects how much you care and incentivizes others to leave reviews.
6. Add special attributes
Special features are available for your profile, depending on the category you have chosen. For example, hotels can display class ratings, check-in and out times, and amenities. Restaurants and bars can upload their menus along with images. Meanwhile, service-oriented businesses such as legal consultation, plumbing, and professional cleaning can display their list of services.
You can also have access to different types of categories like appointment bookings, reservations, and orders. Or add factual attributes that your customers would want to know — whether your business is wheelchair-accessible, offers free WiFi, or has outdoor seating.
7. Add products
Make your profile even more functional by adding your inventory. This way, potential customers can see what products you offer before they decide to visit your business. It's also a great solution if you want to show what's in store without having to set up a website.
You can add products manually to your Business Profile. But tools like Pointy lets you automatically add your in-store inventory to your profile.
Your content goes here. Edit or remove this text inline or in the module Content settings. You can also style every aspect of this content in the module Design settings and even apply custom CSS to this text in the module Advanced settings.
Google Business Profile Ranking Factors
Now, to rank in the local map pack, Google looks at three primary factors: distance, relevance, and prominence.
Users searching for local businesses usually want the nearest options, so Google will consider how far your business is from the search when ranking for the listing.
Relevance is why adding as much information to your profile is important — you want to be found by relevant searches every time. To be relevant to the search, your business has to align with what a user is searching for. Let's look at the example for "nail salon near me" again.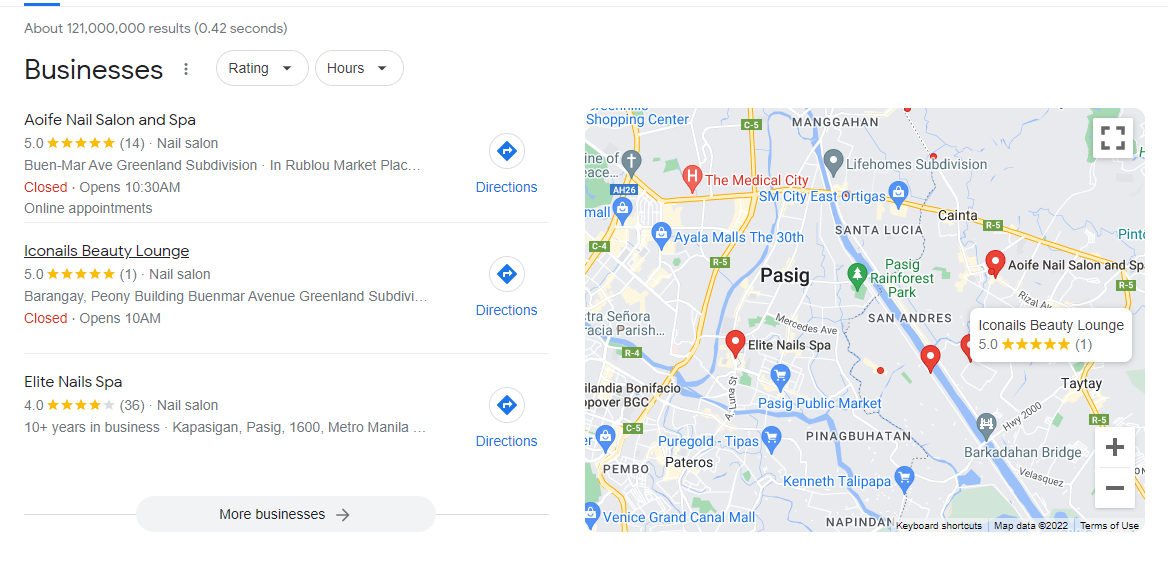 The search is quite specific, hence the more relevant results to the query.
Prominence is relevant to how reputable and well-known your business is. Google takes a few factors into consideration to determine the quality of your business such as good reviews, quality backlinks, and local citations.
Google Business: How to Rank for the Local Map Pack
There are many ways to improve your local SEO performance and increase your visibility in Google Maps search results. This guide will walk you through four steps to ranking higher in the Google local pack and how to take advantage of each tactic.
Why You Need to Optimize Your Google Business Profile
There are many elements and features to work within a Google Business Profile listing. When done right, a well-optimized profile attracts users to your business instead of your competitors. But there are other benefits to it as well.
There is a rise in zero-click searches where users are finding answers to their questions directly in SERPs without having to click through a website. With potentially more users engaging with your business through your Google Business Profile than your website, you'll want to optimize that profile for maximum engagement and conversions.
Other than proximity and relevance, a well-optimized Google Business Profile also sends signals to Google to rank you higher in local results. And the higher you rank, the more visibility and engagement with your business, and the more foot traffic to your store.
Sure, a regular business profile can help users find out where you are located. But a well-optimized one can do so much more. Users can discover you through keyword searches, call you, visit your site, know more about your products and services, read reviews, request a quote, book an appointment, and so much more.
Case Study: Florida Lawyer Gets 110% more Organic Clicks
This Florida Lawyer reached out to It's a Writer's World to help boost her website's organic search, keyword rankings, and overall site improvement. Through local SEO efforts and Google My Business Optimization, It's a Writer's World was able to increase their organic clicks by 110% throughout the span of the campaign vs. the previous year. With the site built on AWS platform and carries an outdated web design, along with several changes in the structure, this law firm struggled to make a mark on Google search. It's a Writer's World team found numerous site errors upon running the site on several SEO tools making it a very challenging campaign.
Track Your Google Business Profile Performance
Optimizing your Google Business Profile is the first step to developing a diverse local SEO strategy. This free marketing platform provides you with a variety of opportunities to engage with your audience and increase your visibility in search engines.
Measuring your Google Business Profile's performance gives insights into how customers are engaging with your profile. Google offers the ability to track your analytics and provides useful information such as:
How users find and engage with your profile
The keywords or search terms they use to find your profile
Where they access your profile
The actions they have taken (e.g. calls, messages, bookings, direction requests, website clicks, etc.)
With a Business Profile, you now have a gold mine of valuable insights you can use to compare numbers and refine your local SEO strategies.
Where We Can Help
As an SEO expert in the Philippines, we help our clients realize their advantage with local SEO. We help them set up, optimize, and maintain their Google Business Profiles to boost their local search presence, get leads, and ultimately get ahead of the competition.
Is Google Business is free?
Yes, it is. Google offers its Business service for free, with some limitations. Some of the features included in the free plan include listing and hosting your business on Google My Business (GMB) and creating a website with an easy-to-use template. You also can list your services and products in GMB and get access to insights into how customers discover and interact with your business on Google.
How do I access Google Business?
If you already have a Gmail account, you can easily access the Google My Business dashboard by visiting business.google.com and signing in with your Gmail credentials. From there, you can view and manage all of your business listings, create a website for your business, and monitor customer reviews and insights into how customers interact with your business on Google.
How do I activate my Google business account?
Once you've created your Google My Business account, you can activate it by verifying your business with a phone call or postcard. During the verification process, you will need to provide some basic information about your business and its location. Once verified, you can start using all of the features available in the dashboard.
How do I know if my Google business is verified?
Once you've submitted your verification information, you should receive a notification that your business has been verified. You can also visit the Google My Business dashboard to check the status of your account. If it says "Verified" next to your business listing, then it is officially verified and you can start using all of the features available in Google My Business.
How long does it take Google to approve a business account?
It usually takes about two business days for Google to approve a business account. However, the process may take longer if there is a lot of information to verify or if there are any issues with your submission. Be sure to provide accurate and up-to-date information when filling out the verification form. This will help speed up the process and ensure that your account is activated as quickly as possible.