Content marketing is no joke! It has a lot of moving parts and can be pretty overwhelming if you're just getting started. From doing keyword research and topics to content writing and creating graphics, as well as distribution, there's a lot to think about!
Increased brand awareness, exposure in search results, and engagement with your target audience are just a few of the many benefits of content marketing. Did you know that 84% of online users expect brands to publish content that is both informational and entertaining? And, 70% agreed that they would rather learn about products through content and not ads.
Creating great and insightful content should be one of the things you do to improve your customer's experience whenever they interact with your site. It should be well thought-out, and strategic. Most importantly, your content should be able to answer the most pressing questions your users have. Otherwise, you're just publishing clutter.
This is what I believe is one of the things most companies fail to execute. According to Havas, 60% of content created by brands is 'just clutter'. This is the type of content marketing wherein the business is aware that they need to publish a blog to keep the content fresh, but they're not really doing the nitty-gritty stuff—like trying to understand what their customers want to read.
Personally, I've seen some client blogs that are just a mess. I've audited one website wherein their blog articles just contain an image and a link to other websites' content. This is a missed opportunity because instead of having people stay on their site (which builds trust), they're just directing them to someone else's.
To be successful in content marketing, you must do a lot of research and a lot of brains to work with you. But don't fret. There are tools available to help you out. Here are some of the best content marketing platforms that can help you get started and be successful in your content marketing endeavors.
But first, let's discuss what a content platform is and why you need at least 2 or 3 of these to keep everything streamlined.
In this guide:
What are Content Platforms?
Basically, content platforms are tools that help you with the creation, distribution, and management of your content. In other words, it's everything from developing ideas to publishing and promoting your content, as well as analyzing the results.
Some platforms are better equipped for certain tasks than others. For example, WordPress is great for creating and managing written content, while Canva is a go-to for creating visuals. There are also all-in-one platforms that provide a suite of tools to help with different aspects of your content marketing.
Why Do You Need Multiple Content Platforms?
The answer is simple: no single platform can do everything, and you'll be better off using different tools for different tasks.
For example, you might use one platform for developing ideas and another for managing the production process. Additionally, you might want to use a different tool for analyzing your traffic data and another for storing your final content pieces. By using multiple platforms, you can ensure that you have the right tools for every stage of your content marketing process.
19 Platforms for Content Creators and Marketers
Here are the 19 best content marketing platforms that you should consider using:
Platforms for Content Marketers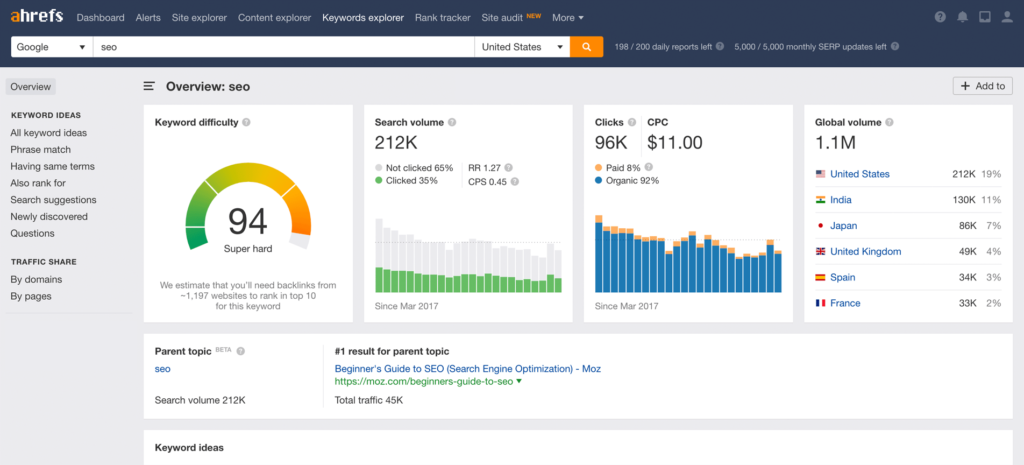 Ahrefs is a comprehensive platform that provides a suite of tools for content marketers. With Ahrefs, you can research your competition, find link-building opportunities, and track your progress over time.
I've personally used this, and I love how easy it is to use when it comes to keyword research and topic ideation. I mostly use their Keyword Research Tool wherein you can see different metrics like Search Volume, Keyword Difficulty, CPC, and Traffic Potential. But what I love the most is that they actually show the Page Title in the SERP Results section and what types of content rank on the first page (videos, featured snippets, and local map pack).
I also like how they can show People Also Ask questions which helps content marketers like myself understand what questions people type in Google to get to our content.
Google Search Console is a free platform provided by Google that gives you insights into how your website is performing on search engines. With this platform, you can see which keywords are driving traffic to your site, track your website's click-through rate (CTR), and find out which pages are getting the most impressions.
For me, the most important feature for brainstorming content is the Search Queries—great data to refer to to find content gaps. These are the actual words and phrases people typed on Google, and it so happens that your content ranks for them.
I use this data to see if these keywords are worthy enough to write dedicated content for. For example, my blog about Online Reputation Management is getting a lot of traction for the brand J&T Express. When I first wrote this, it was a matter of sharing insights of how the company could've handled the viral video taken by a crew or outsider showing how wreckless their sorting center team was.
Fast-forward today, it's still one of my best-performing articles. But in recent data, I saw that apart from "J&T Express", it's also attracting related keywords to "online reputation management". What's more, these queries which are merely mentioned in portions of the article, are showing up on search and my site is getting clicks for them. That is gold right there! It means that I should be looking in questions about online reputation management further and either 1.) update this blog or 2.) write a completely different article that's more instructional in nature for those who want to learn about the topic. (**yes expect more articles about online reputation management in the future!)
Google Analytics is another free platform provided by Google that gives you insights into your website's traffic. With this platform, you can see how much traffic your website is getting, where it's coming from, and what people are doing on your site. Additionally, you can use Google Analytics to track your website's conversions.
Content marketers can use Google Analytics to track the performance of their articles and see which ones are getting the most traffic. Additionally, content marketers can use Google Analytics to see which channels are driving the most traffic to their site. For example, if you see that a lot of your traffic is coming from Twitter, you might want to focus on promoting your content on that platform.
Buzzsumo is something I rarely used (since it's a paid tool, lol), which can help content creators learn more about what their audience is reading on social media. It's a tool that lets you see how popular a piece of content is on social media.
This tool can help content marketers see what kind of content is resonating with your audience and get ideas for future content pieces. For example, if you see that a lot of people are sharing articles about "content marketing tips", you might want to write an article about that topic.
Buzzsumo also helps you get a glimpse if a topic you have in mind will be a hit if you start distributing it on social media. If you see low engagement for the hashtag or topic, it might be a sign that it's not worth pursuing.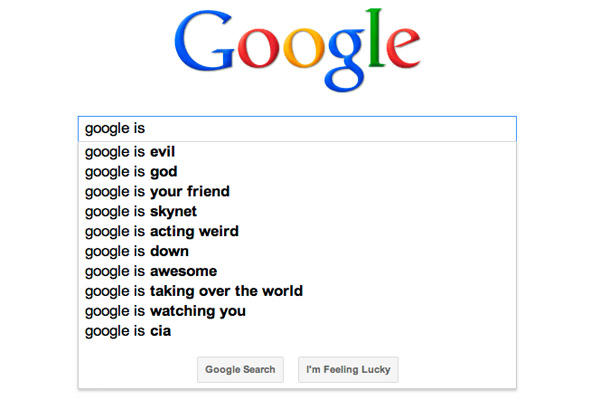 If you want to rank for Google, it's just common sense to do some Google searches for related topics, industries, or keywords to get ideas. For me, it's a way to check out the competition and see how I can improve my future article.
Searching on Google also gives you a good idea of what topic titles rank on the first page. You can use these title ideas as inspiration for your own article. For example, if you search "content marketing" on Google, you may see articles with titles like "x Content Marketing Strategies" or "Content Marketing Tips and Strategies". This is Google showing you what types of content they favor.
Just by simply searching on Google, you can see what kind of content is ranking for your target keyword. Additionally, you can use Google's "People Also Ask" section to get ideas for content. For example, if you're searching for "content marketing tips", you might see questions like "What is content marketing?" or "How can I improve my content marketing?". These are all potential topics that you could write about.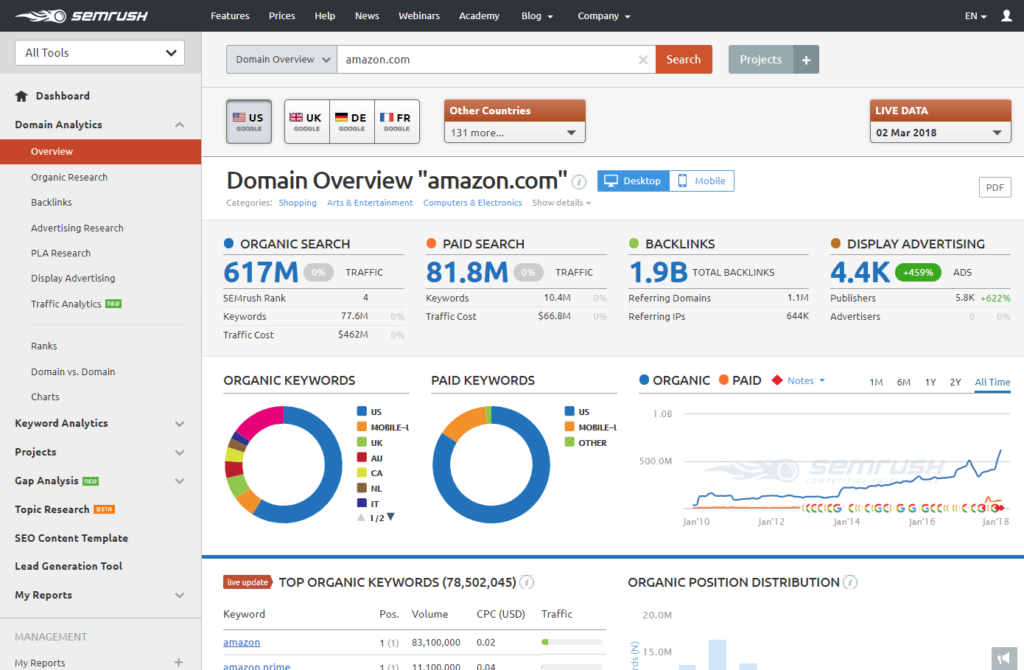 Just like Ahrefs, SEMRush is a great tool to use to spy on your competition. This is a paid tool, but it offers many features that can help content marketers.
SEMRush lets you see what keywords your competitors are ranking for, what kind of traffic they're getting, and how their articles are performing. SEMRush has a "topic research" feature that lets you see what topics are being written in your industry.
What I like about SEMRush is their keyword intent feature, which gives you an idea if a keyword is leaning more on transactional or informational. If your target keyword is more transactional and commercial, you may want to optimize your service or product pages for it rather than using it in a blog.
As what I always tell my clients, the blog is meant to capture the audience during their research phase—they have a problem, they are not sure what the solution is. You want your blog article to be their point of reference when it comes to getting a solution to whatever problem they have.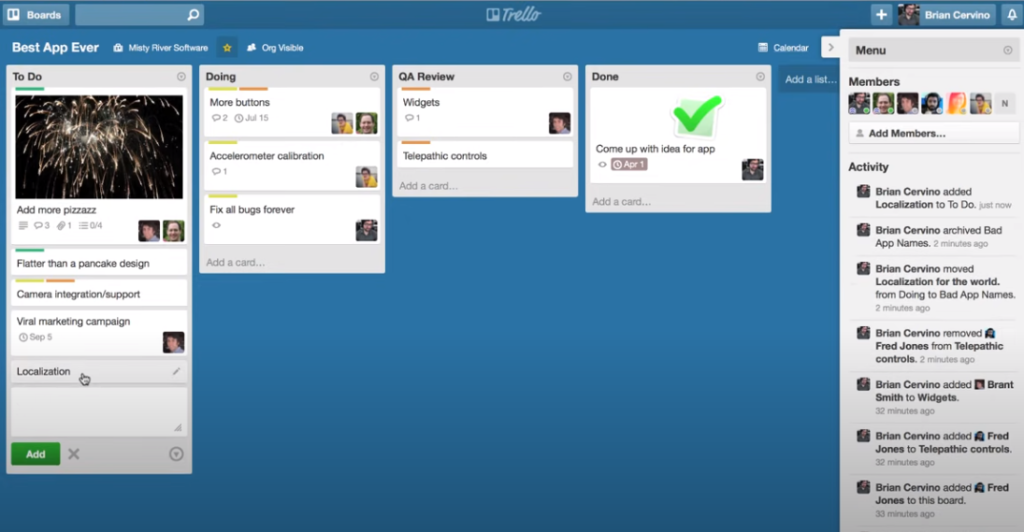 Every content marketing campaign needs a reliable project management tool. Trello is one of the tools I've used before in managing content calendars and campaigns.
Trello lets you create boards and cards to organize your ideas, tasks, and deadlines. You can invite team members to collaborate with you on the board and assign tasks to them. I like that Trello is visual and easy to use. It's also free, which is a plus.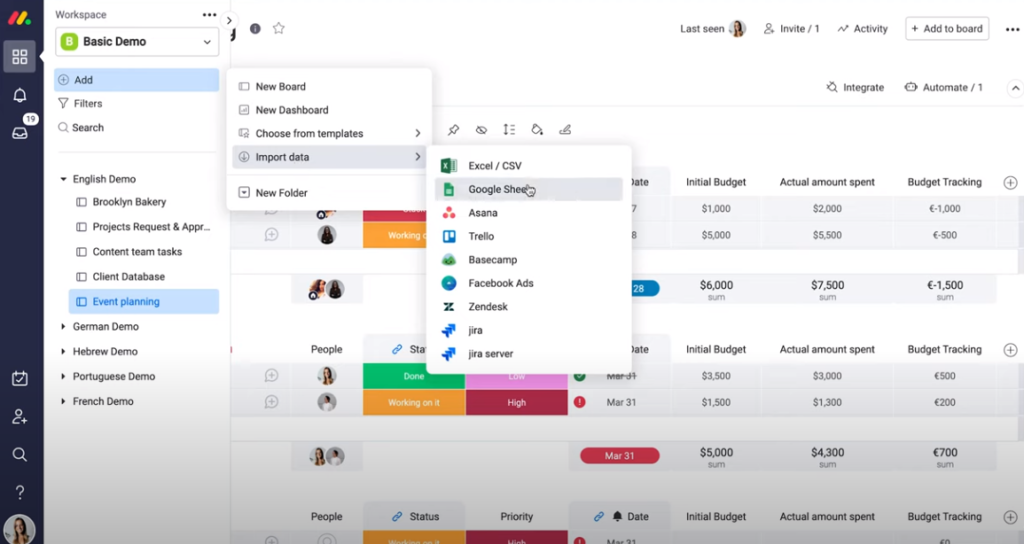 Monday is another cool project management tool that's similar to Trello. With Monday, you can create boards and add tasks, deadlines, and subtasks. You can also invite team members to collaborate with you on the board.
One of the things I like about Monday is that you can see all the tasks that are assigned to you in one place. This is helpful if you're managing multiple projects at the same time.
If you're a bit tied to the budget, you can use Google Sheets as your project management tool. Google Sheet is a free online spreadsheet application that's part of the Google Docs suite.
With Google Sheets, you can create a spreadsheet for your content calendar and track your deadlines, ideas, and progress. You can also invite team members to collaborate with you on the spreadsheet.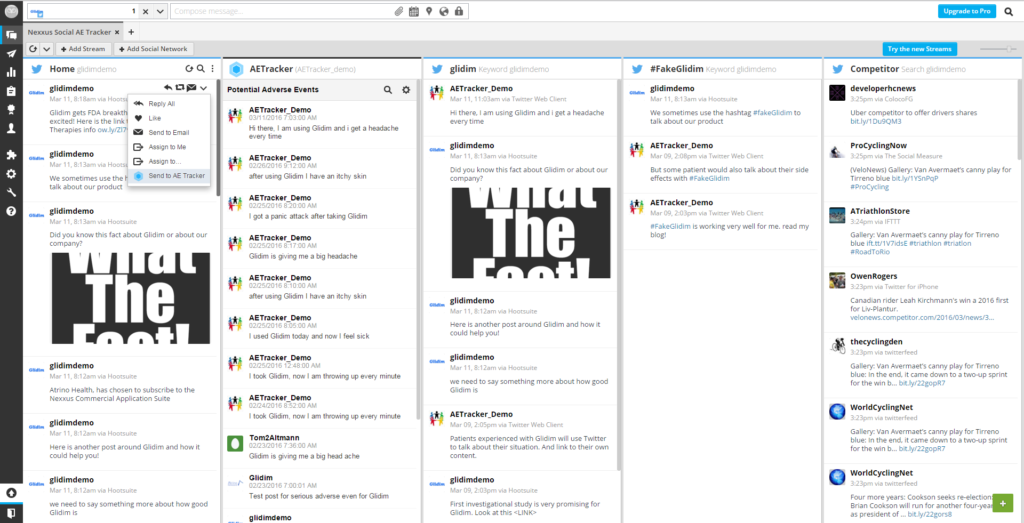 Hootsuite is a social media management platform that lets you publish, schedule and measure your social media posts. This is a great tool for managing multiple social media accounts for your business.
With Hootsuite, you can see all your social media activity in one place. You can also create content and publish it on multiple social media platforms at the same time.
Hootsuite also has a "listening" feature that lets you track what people say about your brand or industry on social media. This helps create content that's relevant to your audience.
Buffer is another social media management platform that lets you publish, schedule and measure your social media posts. Just like Hootsuite, Buffer lets you see all your social media activity in one place.
Buffer also has a "publishing" feature that lets you post content on multiple social media platforms at the same time. You can also use Buffer to measure your social media performance.
One of the things I like about Buffer is their "analytics" feature, which gives you insights on the best time to post on social media, what kind of content gets the most engagement, and more.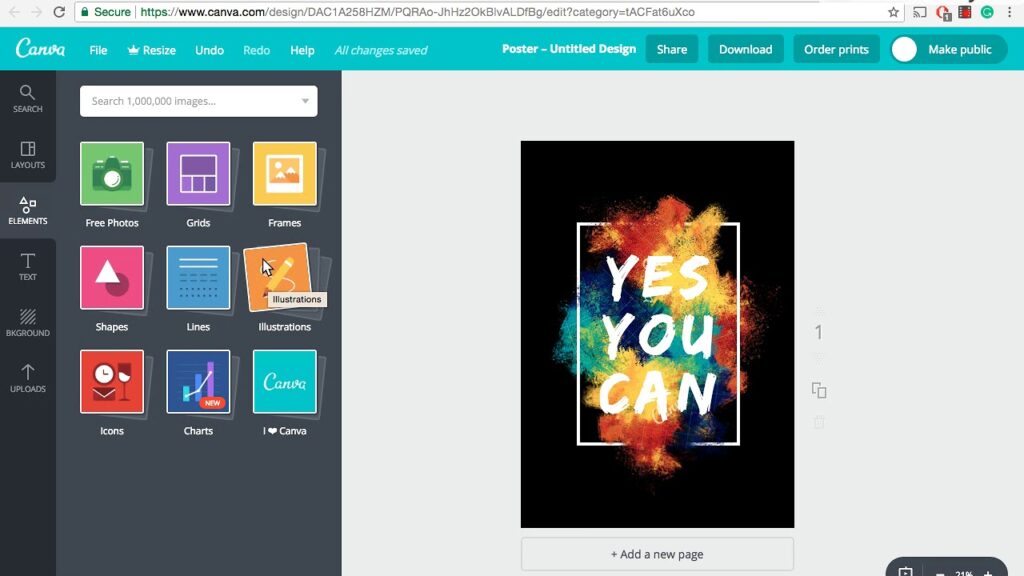 As a content marketer, you need to have basic design skills. Canva is a great tool for creating visuals for your blog posts, social media posts, and email newsletters.
With Canva, you can create visuals using their pre-made templates or start from scratch. You can also upload your own photos and illustrations. Canva has a free version and a paid version.
I use the paid version of Canva and I find it very helpful in creating visuals for my blog posts and social media posts. Unlike the free version, I have access to a lot more tools (almost similar to Photoshop) that let me create more sophisticated visuals.
If you're looking for a more advanced design tool, Adobe Photoshop is the way to go. Adobe Photoshop is a bit pricey, but it's worth the investment if you intend to use it for your business.
With Adobe Photoshop, you can create stunning visuals for your blog posts, social media posts, and email newsletters. You can also design your own website graphics, logos, and more.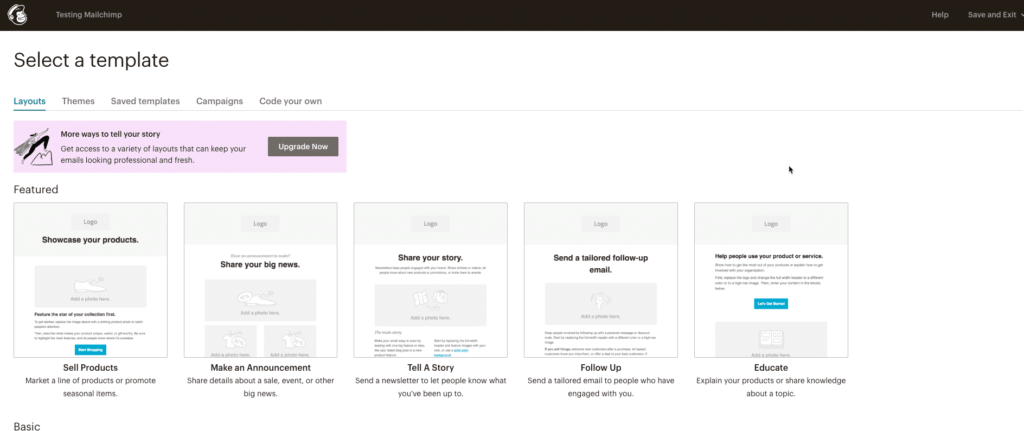 Apart from posting on social media, you also need to alert your email subscribers about the new article. This is where an email marketing platform like Mailchimp comes to play.
Mailchimp is a tool that lets you create and send email newsletters. With Mailchimp, you can design beautiful email newsletters and automate your email marketing campaigns.
You can also use Mailchimp to segment your subscribers into different groups. This way, you can send them more targeted content that's relevant to their interests.

Influencer marketing is one of the best ways to distribute your content to relevant publishers in your industry. It also helps you build that network of relationships that can be so helpful in promoting your content.
SEO-wise, influencer marketing is also a great way to attract quality links to your site. If a high authority site finds your content insightful enough to be used as a reference to one of their existing posts or new ones, that means a lot for your website's ranking.
That's where Buzzstream comes in. Buzzstream is an influencer marketing platform that lets you identify and connect with influencers in your industry. Buzzstream also has a "link building" feature that helps you find opportunities to get your site linked on high authority sites.
If you want your email marketing campaign to go beyond your current customers and find new leads/followers, Hunter.io is a great option. Hunter.io is a tool that helps you find the email addresses of people in your industry.
You can use Hunter.io to find the email address of anyone, even if you don't have their contact information. This is a great way to reach out to new people and promote your content to them.
However, it's good to note that Hunter works in a way that it only observes the pattern of published email addresses online to determine the address of the person you're actually looking for. For example, a press release published somewhere contains the email mev@company.com (MEV is the initial of the person who owns that email). Hunter.io will automatically assume that the email address of the CEO is also formatted in the same way, like ceo@company.com (perhaps his name is Chris E Ortiz).
In my experience, only a few email addresses bounced. So I feel confident in recommending this email data extraction tool above others.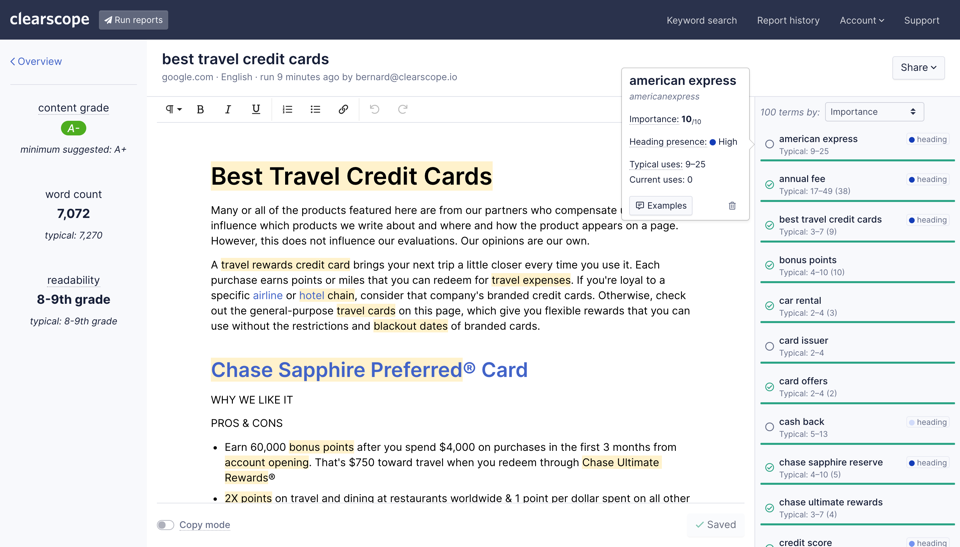 So you have your list of keywords and a topic, now it's time to create your content. Clearscope is a good tool to use to understand how many words a content should be to remain competitive, what other keyword variations are used by other content that's ranking on page 1, and NLP keywords to use to make your content more readable or natural sounding.
They also have Keyword Discovery and Content Inventory which is great for topic ideation.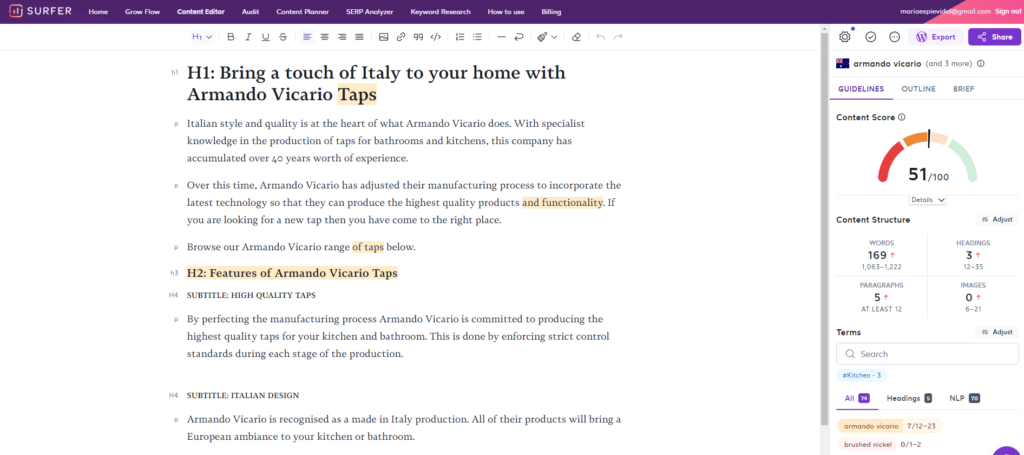 This is the one I'm most familiar with as I've tried optimizing lots of content using this tool. SurferSEO works similarly to Clearscope. It has a Content Editor tool wherein you can put your draft in and provide suggestions on how to optimize it further.
In the content editor, Surfer SEO will show you how many times a keyword should be used vs. how it appeared on your content, what keyword variations you can use, and NLP keywords. It also has an optimization score which rates your content from 0-100. The higher the score, the more optimized your content is.
What I really like about it is that it has a competitive tool within the Content Editor tool which shows you the competitor's score and the recommended number of words. It's always best to outdo your competitor's optimization score so you can feel confident about your content.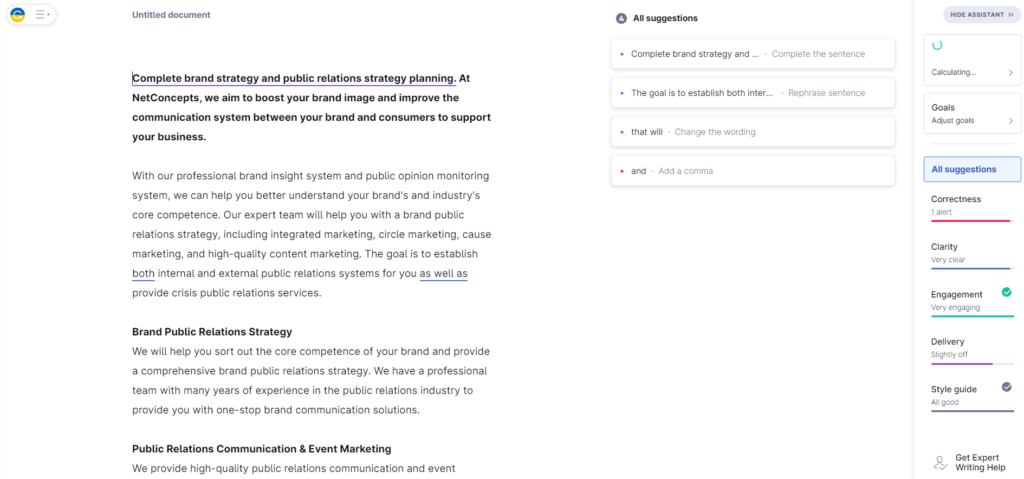 Grammarly is a great tool for content marketers as it helps you improve your grammar, spelling, and punctuation. This is important as you want to make sure that your content is error-free and readable.
What I like about Grammarly is that it's available as a plugin for Chrome, so whenever I'm writing an article in Google Docs or in Surfer SEO, I can just install the Grammarly plugin and it will automatically proofread my content.
For me, I like to run it on the actual tool itself. Usually, the plugin just spot minimal errors like spelling mistakes and punctuation. The premium version helps you construct the sentence a bit better. My biggest issue in writing is that sometimes, I use too many prepositions or definitive and infinitive articles. I also tend to write in a passive voice instead of an active one. Hey, sometimes, it's more dramatic that way—like a cliffhanger. But if you write your whole piece using that voice, it sounds a little too Old English.
Grammarly helps you spot all of those things and provide recommendations to improve it.
Takeaway
There are a lot of great content marketing platforms out there that can help you with your keyword research, content creation, and optimization. The tools that I mentioned above are the ones that I'm most familiar with, and I find them to be the most helpful.
Content Marketing can be tedious but it is fun and challenging. With the right tools, you can easily find the right keywords, create great content, and optimize it for better ranking.