Before all the cool video ads that Old Spice was pumping, Old Spice was sticking to their old image and was having a hard time keeping up with its competitors in 2011. Out of necessity, they ditched their old image in favor of an image of youth and hotness.
With the series of funny and witty ads, Old Spice became one of the hip brands with today's generation. The original ad has more than 58 million views on YouTube as of this writing and Old Spice is still using this formula to target teenage boys and their mothers.
This ad is an example of effective Content Marketing. Content Marketing is about delivering valuable, informative, and highly-relevant content that is targeted to your business' target market. When your content adds value to the lives of the people you reached, you build trust and you become an industry authority. This will affect their purchasing decision to your favor, which in turn will lead to sales.
Content Marketing Elements
Consistent and Valuable Content Creation
Content marketing is not a one-time deal. If you want to continually build a consistent and strong relationship with your target audience, you must regularly post content.
Other than informing your target market about your products, content marketing also educates your potential buyers into how they will address their problems and what solutions they can take. Your business, in turn, will become an authority that they can trust.
Effective Content Distribution
There are many ways to distribute content on the internet and to effectively distribute content matters more than ever.
Content syndication can be an option as this will allow your content to be republished on a third-party website. The key to an effective content syndication is to find a popular and high-ranking third-party website that serves your niche. This will give you greater exposure and broaden your reach.
Easing the shareability of your content is key. It's important nowadays to have your social media buttons in strategic places of your content to maximize your content's shareability.
Audience Attraction and Retention
To create an effective content marketing campaign, you need to know your ideal buyer, also known as your Buyer Persona. You have to know their problems or their pain points, how they can reach you, and what factors will affect their purchasing decision (i.e. price, quality).
Your content marketing strategy shouldn't be limited to finding potential customers; it should also serve your existing customers too. Providing valuable and relevant content must target both potential and existing customers.
Driving Profitable Action
The goal of your content should still be about driving sales or leads. Having original, well-written, and well-researched content can help you with driving sales or leads. It is also important to understand and constantly study Google or any other major search engine's algorithm updates.
The search engine ranking of your website is dependent on how valuable your content is. The higher the rankings, the better your content's visibility is on major search engines which, in turn, can increase your sales.
Why is Content Marketing Effective?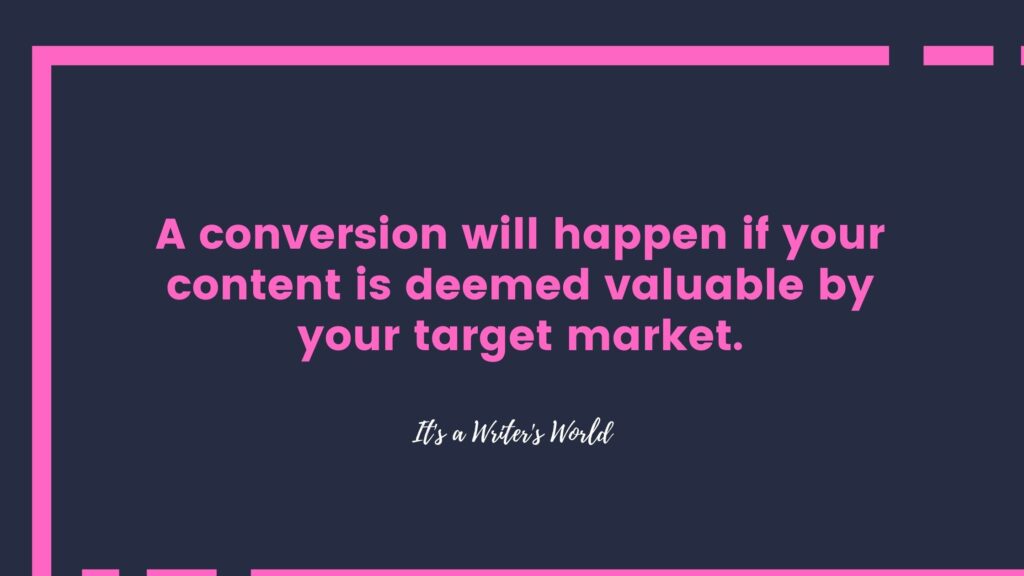 Since content marketing strategies became popular, it has brought tremendous benefits to anyone who has implemented it. These benefits include:
Builds Brand Awareness
An effective content marketing strategy delivers relevant and helpful content to your target audience and it builds trust and authority. With that said, you can take advantage of that trust by upselling your products or services. This will better your chances of swaying your target audience to get your products or services.
Increases Website Traffic
Consistently putting out valuable and relevant information will turn your business into an authority. This will eventually translate into increased organic traffic to your website due to word of mouth and your audience sharing your content on various platforms.
Increased organic traffic will boost your search engine rankings. Being on top of the search engine rankings means you're very visible online. You can take advantage of this visibility to promote your products or services which will convert into increased leads and sales.
Drives Direct Conversions
A conversion will happen if your content is deemed valuable by your target market. A conversion can be in a form of a signup, account creation, or sale. Effective Call-to-Action (CTA), compelling headlines, and a good copy are essential to make a conversion happen.
Establishes Authority and Trust
You can showcase your business' knowledge and competency using your content. Consistently putting out valuable and relevant content will build your image as an authority or expert. This will build trust on your content. On a search engine level, the longer your target audience stays on your page, the better your page will rank on search engines.
Improves Search Engine Visibility (SEO)
In today's Search Engine Optimization (SEO) landscape, the more optimized your use of relevant keywords is, the better your content's visibility in major search engines. You can also build links with keywords to further improve your search visibility and SEO rankings.
Enhances Lead Generation Campaigns
Making your readers provide information such as their email address and name because of their interest in your content is called Lead Generation. Other than blogs to get leads, you can use other forms of content such as e-books, case studies, and/or podcasts. Once their information is acquired, you can direct them into your sales funnel which will convert into sales.
Builds a Unique Community
Through content marketing, you can build a community to build brand awareness for your business. One of the ways to do it is by notifying your followers about new content on your social media accounts using an email newsletter.
Increases Retention of Clients
Lastly, you can design your content marketing campaign to improve client retention. One way to do it is through an email campaign on how to maximize the use of your product. You can also study your target market's behavior using their user data. For example, if your users click on 'diet' often, chances are that your target market will be enticed if you deliver a product or service that is related to dieting.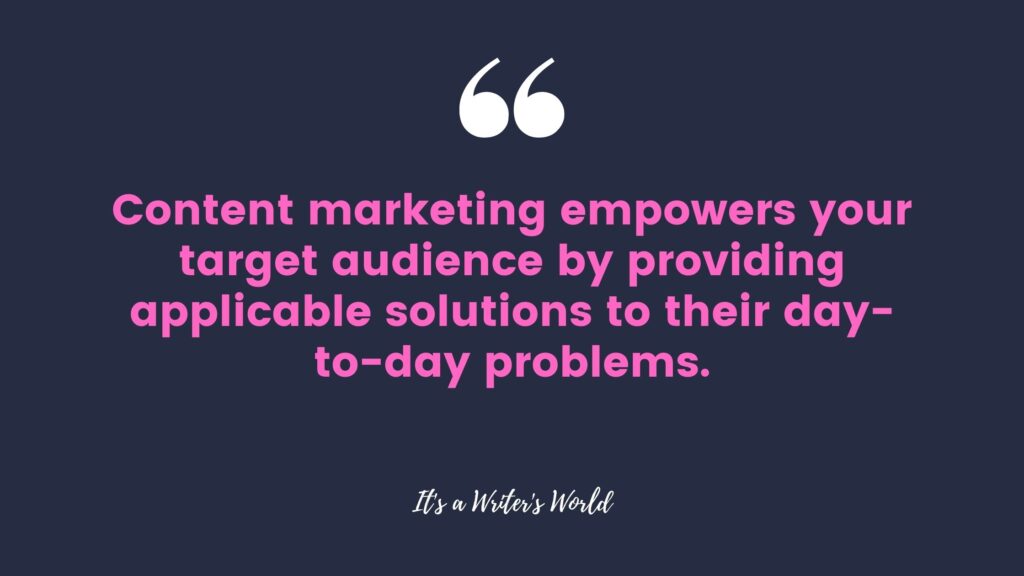 Traditional Marketing vs Digital Content Marketing
Unlike traditional marketing, content marketing is not intrusive in nature. On the contrary, content marketing empowers your target audience by providing applicable solutions to their day-to-day problems. Lastly, the costs of a content marketing campaign are scalable and comparatively less compared to traditional ads or billboards.
Types of Content Marketing
The most popular form of content are blogs and articles. These are quick to read and easy to digest. What makes a blog post effective is sustaining your reader's attention. Dividing ideas into sizeable chunks can help with maintaining reader's attention
Infographics/Visualizations
Infographics are visual representations of information and are widely popular on social media. An attractive and highly informative infographic can easily catch anyone's attention. Make sure that you don't focus on the design alone and instead focus on how you'll present your information.
Ebooks/Whitepapers/Case Studies
These forms of content are longer than your regular blog. These can serve as content offers that your target audience can download in pdf form. With the valuable information that is often contained within ebooks, these are often used in exchange for getting personal information like name and email.
8 Important Steps to Develop an Effective Content Marketing Strategy
1. Set Goals
To develop an effective content marketing strategy, you'll need to set a content marketing goal. Ask yourself this: What do you want your audience to do right after reading your content?
You need to know the following:
Your product
Your target market
Your business' goals
Your competitors
2. Know your target buyer persona
Building a buyer persona matters as this is the ideal person who will buy your service or product. Researching and studying the following will help in crafting your target buyer persona:
Demographics,
Occupation,
Pain points,
Buying behaviors,
Their buyer's journey, etc.
3. Review your existing content
Auditing your own content will let you determine what content worked the best previously and what did not. You can also study other aspects that can potentially work in your next content strategy like design, layout, authors, and target of the content. Use metrics such as comments or shares in determining what content worked best or didn't.
4. Study top performing content
Aside from studying what worked for you, research what also worked for your competitors as well. These can be content, tactics, gimmicks, etc. Analyze the keywords that your competitors used to rank higher on major search engines. You can do top global content for those keywords and learn the factors that made it perform well.
5. Create Topics
From the goal, buyer persona, and analysis of your content, you can generate topics that you think will work for your content strategy. Make sure to SEO optimize your content with the relevant keywords.
6. Craft a distribution plan
There are various channels to choose from for distributing your content like Facebook, Linkedin, Instagram, etc. Email newsletters is another form of distribution that you may consider as this is not affected by constant algorithm changes present in many social media platforms. Advanced distribution strategies like content partnership is another option that can give your content a much needed distribution boost.
7. Execute!
After planning your content and distribution, it's time to implement! To make the best content possible, you can hire writers and researchers or utilize your current staff. You can also get designers to make your content visually attractive and catchy. A well-written, well-researched, and well-presented content should always be what you should aim for for every content you make and share.
8. Evaluate, adjust strategy, repeat
The most often forgotten step in implementing a content marketing strategy is tracking content performance. You can track weekly, monthly, or quarterly, depending on the goals that you've established at the start of your content strategy formulation.
Conversion, brand interest, sales, blog traffic, social media shares among others are some of the metrics that you can use to measure the performance of your content. Of course, measuring is not enough; you must apply and make adjustments! By continuously making adjustments, your content strategy becomes more optimized and customized for your needs!
Important Tools Needed in Implementing Your Content Marketing Strategy
1. SEO Tools for Keyword Searching
Guesswork is not enough to determine the relevant keywords to optimize your content. To rank higher within major search engines, you are going to need the assistance of SEO tools to find the most relevant keyword for your content. Some of the tools that you can use are:
Ahrefs: you can use this tool to know the keywords your competitors use and how much traffic they can generate.
Google Keyword Planner: this comes as a free tool from Google Ads. The planner shows how your keywords perform directly from Google.
WooRank: this tracks the ranking of the keywords you're targeting as well as analyze your competitors' keywords.
2. Content Research Tools
Content tools like Ahrefs can help you come up with new topics and ideas by showing metrics such as social media shares, views, and built links. These will give you valuable market insight and can steer your content marketing strategy into a better direction.
3. Editorial Calendar
Editorial calendars can help you plan and schedule your content posting: be it a blog post, an infographic, or a live stream. Editorial calendars can help you track what topics you have covered and yet to cover in the future. You can check what content needs editing, publishings, or promotion using an editorial calendar.
4. Writing
Grammatical errors can be a hassle. There are tools like Grammarly that can spot grammatical errors and simplify the words found in your content. Keeping your content free of grammatical and structural errors should be one of your goals in creating your content.
5. Distribution
There are various ways that you can distribute your content to reach your target audience. Social media platforms are some of the best channels to promote your content.
There are tools you can utilize that will help you streamline the distribution process like Facebook Content Studio, Hootsuite, and Buffer. These tools will not only schedule your content posting for you but it can analyze how engaging your content is. Mass email tools such as Mailchimp can help you automate your email campaign and customize the content of your emails.
6. Analytics
You can take advantage of analytics tools like Google Analytics to see the performance of your content. You can analyze the performance of your content using metrics such as page views, visits, clicks, shares, engagement, etc. These metrics will aid you in optimizing and refining your content marketing strategy.
Content Marketing is also…
More than just writing content
Since the competition is stiff in gaining your target audience's attention, creating valuable content matters more than ever. But creating valuable content is not enough. You have to keep posting valuable content on a consistent basis. With consistent posting comes consistent interaction in order to build a relationship between you and your audience.
A never-ending process of improvement
Marketing changes everyday and you have to keep up with the changes. You have to be willing to learn to keep up with the changes, be it through learning new words or phrases. The changes in the marketing landscape are quick so you have to be updated and stay updated!
Is still king!
Your marketing strategy will not work unless you have a valuable, informative, and relevant content to offer. At the end of the day, content marketing matters!
A team effort
Content marketing is not a one-man effort. It takes your company's collective effort to make a content marketing strategy successful as someone has to run your blog, someone has to write, and someone has to manage the distribution of your content.
Is about telling stories
As the internet is flooded with so much content, the one thing that can make you and your content stand out is by telling stories. Go for a story that is real, inspiring, or personal that can make people relate better to your brand and to your business.