Fool-Proof Content Marketing Strategy
It is easy to write content that your target audience would be interested in but not pairing it with a fool-proof content marketing strategy would make it a flop. I believe in the power of a content marketing and its efficiency in luring in new customers, educating users, driving revenue and helping build a influential brand for any business—most especially small ones.
Content Marketing Institute reports that 70% of B2B marketers say they are creating more content this year than they did in 2016. The trend shows no sign of slowing down in 2018 moreover in 2019.
While most businesses understand the value of content marketing, it can still be quite intimidating especially when you see your competitors and 'idols' publishing in-depth, lengthy blogs, launching podcasts, and video marketing. Everything can get quite overwhelming.
Did you know that 63% of businesses don't have a documented content marketing strategy? Without a strategy, success or failure is just a matter of luck – and you risk all your efforts going to waste.
Today, I'm here to give you some tips on how you can start creating a content marketing plan that suits your business needs.
Steps to Creating a Content Marketing Strategy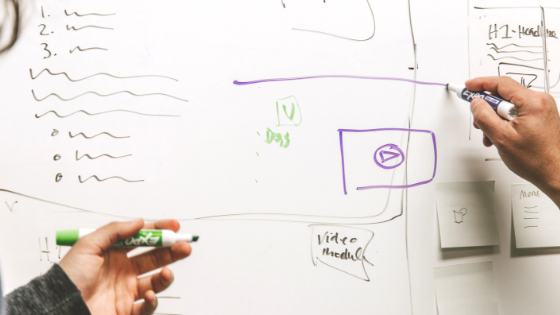 #1 Define your content marketing goal
Before you research on what you're going to write, ask yourself why you want to create these in the first place.
No matter what you do, it should always start with a goal. Set out a mission statement—best if you can print it out and frame it near your work station so you can be reminded why you are doing this. Mission statement makes it easier to focus on what's important in creating your content so your content strategy stays on track.
Do you need more traffic? New subscribers? Downloads? Sales? Social presence? Video views? Whatever your goal may be, connect it with how you can bring value to your audience and create a mission statement around it.
#2 Understand your Audience
Once you have defined why you're making content, you need to understand exactly who it should be intended to. Who is interested in this kind of content?
Effective content is not about the list of topics you want to talk about. It should be made out in the open with involvement and feedback of your audience. It should be designed to answer the most pressing questions your audience has and educating them.
Define the demographics. What's the age bracket of your target audience? Their location? Gender? Job title? Usually, you can get an idea by studying your current customer base. Once you have listed down their demographics, time to go deeper.
Identify the psychographics. These are attributes like online behavior and activity, and interests. This is one of the wonders of analytics. If in the past, the only data marketers have is demographics and financial status, today, analytics can provide them with the accurate data of their customers' buying behavior and possible interest. You'd be surprise to find some people outside of your target demographics are interested in your product regardless of the price tag.
#3 Create Buyer Personas
Also known as customer avatars, buyer personas should include data about the customers' pain points, challenges, information choice, and behavioral motivators. This makes it easier for you to know the kind of content your audience will respond to, what will make them care about it, and how it can help them.
Visualize who this person is. In a document, note down their demographic and psychographic.  It would also help you get a vivid visual of your target audience by finding a photo on stock images sites like Unsplash and Pexels. It may sound silly but this would literally help you visualize the person you've just described.
Now, take that bullet list of characteristics your potential customer has and turn it into paragraph form (narrative). This would accurately describe the environment and feelings your persona lives in. Give them a name and activity you think they probably do on a daily basis.
#4 Assess your Current Position
The market is very competitive. There are so many businesses launching everyday trying to get the attention of your target audience through content whether it be video, blog, podcast, or social media. That's why the next crucial step is to figure out where you stand versus your competitors. Conduct a competitive analysis.
Take your target keyword and do a quick search on Google as to who are ranking for it. I find the tool Ahrefs as the best all-around content marketing tool as they provide you with amazing insights about your competitor's performance, keyword difficulty, and even social insights. If you have this tool, you can check which pages is the top performing for that keyword. It can also give you an in-depth insight on which articles your top competitor is getting the most sustainable traffic.
Conducting a content audit for your own blog is also crucial. From your Google Analytics and SEO tools, check which content pieces are effective and which ones need improvement to achieve your goals, or which ones don't perform at all.
#5 Find the Best Content Channels
Let's be honest. You don't have the resources and the time to be on every single platform online just to get everyone's attention. Sometimes, it works better to be on just one platform, with limited demographics, and yet, the interest there and the conversions are high.
Google Analytics' Acquisition tab allows you to check which networks your audience is most active in. You can also use tools like Ahrefs and Buzzumo to see which channels and content types are most shared on specific social networks giving you a clearer view of your audiences' preference. This way, you don't have to waste another cent on channels that won't give you returns.
#6 Decide on Content Types
Now that you have an idea where your target audience is hanging out, it's easier to pin down the type of content you should create. Why spend thousands on lengthy videos for a kickoff when you can just do a quick vine?
Use Buzzsumo and Ahrefs to map the types of blog, graphics, or videos you should create to the potential of social shares and constant traffic. Know what topics your audience is highly interested and which questions they are still seeking for answers to. Look into competitors and see what works best for them and which keywords they are targeting.
Creating a successful content marketing strategy isn't just about navel-gazing to get stats on your own site. It's also about seeing what other successful content is out there that you can use for inspiration. It's best if you consult a content marketing expert in the Philippines to help you jump start on your online business.