Outsourcing SEO services to the Philippines is a long-standing industry practice. The country has a large pool of highly-skilled and affordable SEO experts. This makes the Philippines an ideal destination for businesses looking to get the most bang for their buck when it comes to SEO outsourcing.
Outsourcing involves hiring a third-party agency to perform services or manufacture goods traditionally performed in-house. These days, it is commonplace to outsource search engine optimization (SEO) services to help businesses scale their growth and build a strong digital presence.
As a business, the key advantage of outsourcing your SEO is that it allows you to focus on your core business productivity. Instead of spending time on one aspect of your business—perhaps, installing a new plug-in on your website or updating your blog, you can direct your time and energy towards processes that drive profit.
There's just so much to do to market your business, but often not enough time to do it. If you have tried your hand at SEO but haven't quite gotten the results you wanted or if you are strapped for time and manpower, it is maybe high time you outsource your SEO.
In this guide, we will discuss the importance of SEO for businesses, and how you can leverage SEO services from the Philippines to maximize your company's online visibility and ROI.
In this Guide:
Why Is SEO Important For Businesses
Search engine optimization (SEO) is the practice of improving the ranking of a website on search engines. The higher the ranking, the more likely people are to find the website.
SEO is at the core of every digital marketing strategy. It refers to a set of practices designed to optimize your website, increase its search visibility, drive more traffic, and boost conversions.
SEO is important for businesses because it can help them:
Increase their visibility online
Drive more traffic to their website
Boost their sales and ROI
In other words, SEO helps improve your web content to help it rank higher in search engines; so whenever someone searches for relevant keywords, topics, or phrases, your website will appear more prominently on the search engine results pages (SERPs).
There are many things an SEO expert can do to help improve your rankings. They can write high-quality and engaging content, and build links to increase your rankings and get more traffic. In its basic form, SEO services will involve:
Fixing issues such as duplicate pages and broken links
Checking page load speeds
Optimizing images
Optimizing for mobile
Monitoring backlinks
Competitor research and analysis
Tracking rankings
Some businesses think that they can save money by doing their SEO in-house. However, this is often not the case. DIY SEO is time-consuming and requires a lot of technical know-how. It is also constantly evolving, so you need to be up-to-date with the latest trends and changes in the industry to be successful.
Another risk of doing DIY SEO is that you could unintentionally damage your website and hurt your ranking. This could happen if you make changes to your website that are not in line with Google's guidelines or if you use black hat techniques such as keyword stuffing.
One of the most common issues I've encountered with previous clients is that they are too "excited" to see results that they want to add a bunch of different keywords all at once without doing the proper research. This can often result in what's called "keyword cannibalization", where two or more pages on your site are competing for the same keyword, which can actually hurt your chances of ranking for either term.
Another error most businesses commit is that they try to acquire as many backlinks as they can without even checking the site's relevance or quality. This eventually results in a lower quality backlink profile, which could lead to penalties from Google.
The reality is that unless you are an experienced SEO professional, it is very challenging to do SEO effectively. And even if you are, it is still a full-time job. Therefore, it's important to partner with an experienced and reputable SEO agency that can help you create a solid SEO strategy and execute it effectively.
A good SEO agency will have a team of experts who are up-to-date with the latest trends and changes in the industry, and they will be able to help you create content that is relevant and engaging for your audience.
Related Reading: SEO: How Long Does it Take to Start Working?
Inhouse vs Outsourcing SEO: Which one is Best for My Business
When it comes to SEO, there are a lot of moving parts. From technical optimizations to link building to content marketing, it can be hard to keep track of everything, let alone do it yourself. That's why many businesses choose to outsource their SEO efforts to an expert. But, is outsourcing the right move for your business?
Let's take a look at the pros and cons of in-house vs outsourcing SEO:
In-House SEO
Outsourcing SEO
Pros
You have more control over the process and can make changes quickly.
You can save time and money. An experienced SEO agency will have a team of experts who can get the job done quickly and efficiently.

They will also be up-to-date with the latest trends and changes in the industry.
Cons
It is time-consuming and requires a lot of technical know-how. It is also constantly evolving, so you need to be up-to-date with the latest trends and changes in the industry to be successful.
You have less control over the process.
At the end of the day, it really depends on your needs and resources. If you have the time and knowledge to do it yourself, then in-house SEO can be a great option. However, if you want to free up your time to focus on other areas of your business, or you don't feel confident in your SEO abilities, then outsourcing to an agency may be the best option for you.
How to Outsource SEO Services
There are many SEO services that you can outsource your SEO to. However, not all of them will be a good fit for your business. Here are some tips on how to find the right agency:
Define Your Goals
The first step is to define your goals. What do you want to achieve with your SEO campaign? Do you want to increase your website traffic, or improve your conversion rate? Once you know what you want to achieve, you can start looking for agencies that specialize in those areas.
Do Your Research
The next step is to do your research and find a few agencies that you think might be a good fit. Check out their websites, read their blog posts, and see what other people are saying about them online.
Ask for Case Studies and References
Once you have a shortlist of potential agencies, the next step is to ask them for case studies and references. This will give you an idea of their work and whether they are a good fit for your business.
Get a Detailed Proposal
Once you have found an agency that you think is a good fit, the next step is to get a detailed proposal. This should include what they will do, how much it will cost, and how long it will take.
Evaluate Their Work
Finally, once you have hired an agency, it is important to monitor their work and results closely. This will help you determine whether they are meeting your expectations and achieving your goals.
Outsourcing your SEO can be a great way to improve your website's ranking and get more traffic. However, it is important to do your research and find an agency that is a good fit for your business. By following these tips, you can be sure to find an agency that will help you achieve your goals.
Why You Should Outsource Your SEO Services
The premise of outsourcing your SEO is pretty straightforward: you will work with a third-party provider to access the following benefits it has to offer.
Get a professional or a team of experts working on your SEO

SEO professionals understand how search engines work and the ways to optimize your site for search—executing various techniques to increase your rankings, thus making it easier for people to find you. They don't just stop at that either.

SEO is an ongoing process and the best SEO provider will constantly track and analyze results to identify what's working and what's not and provide insights to further refine your strategies.
Save time and money
There are many ways you can save time and money by outsourcing. First, by letting someone take over your SEO, you free up your valuable resources—time, manpower, and office space—that you can instead focus on customer service and growing your business.

Don't forget the cost-saving as well. Sure, it may initially cost you, but when you outsource your SEO, you can avoid a full-time hire and the costs involved in recruiting, training, and managing new hires. It also eliminates the need to invest in tools and infrastructure, which overall means reducing your cash outflow and maximizing your resources.
Get better results
Although not a guarantee, in many cases, you will see faster progress when you partner with an SEO professional. With their expertise and access to enterprise-level resources, there will be fewer errors, less troubleshooting, and more accurate results. You are more likely to rank faster, get more traffic, and earn greater visibility in a shorter time compared to when you do it yourself.

In a recent project I completed, I had a chance to work on a website for a local landscaping and driveway contractor in the UK, which struggled to maintain visibility in the local search.
The client had a very limited budget for the project, but we were able to deliver great results. In just 3 months, we got the website to rank on the first page of Google for its main keyword "landscaping contractors", as well as numerous other keywords.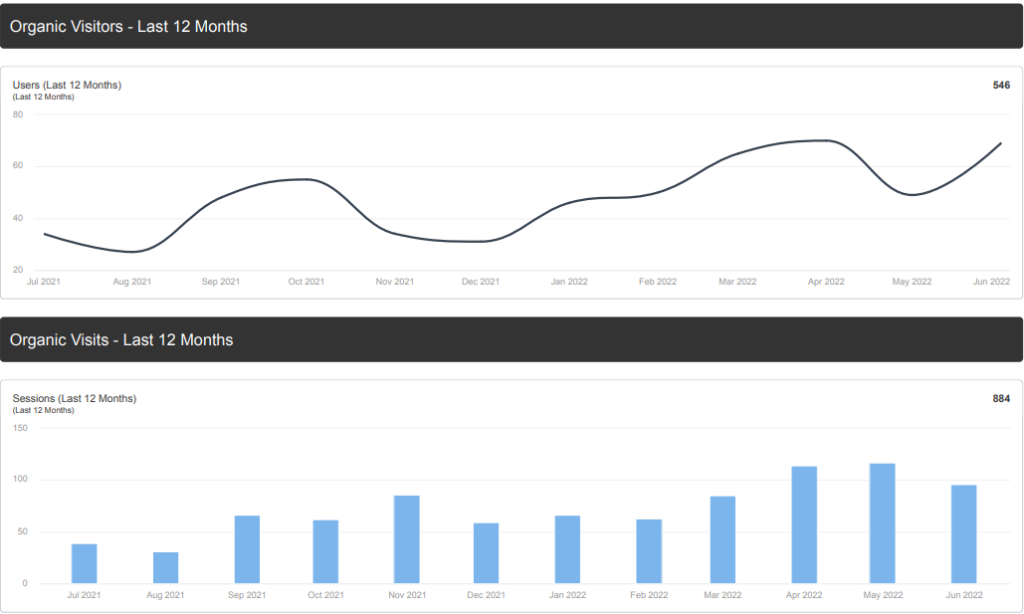 As seen in the graph above, the SEO traffic from April to June has been consistent. And in spite of the Google algorithm update, the site has not seen any major drop in traffic or rankings.
The moral of the story is that, with a little help from an expert, you can achieve great things—even on a shoestring budget.
I've also done Google My Business Optimization for this client which resulted in driving clicks and calls to their website. In a span of one month since the rolled-out improvements, we have seen a 20% increase in website clicks and a 300% increase in calls.
Related Reading: Are SEO Services Worth It? All Your Questions Answered
When Should You Outsource SEO Services?
The answer to this question depends on your current situation and needs. Do a self-assessment of what you can handle in-house and where you need help. Here are some situations that might warrant outsourcing:
You're starting from scratch with no SEO experience
Your in-house team is bogged down with other responsibilities and lacks the bandwidth to focus on SEO
You need access to enterprise-level resources that are out of reach for in-house teams
You're not happy with your current progress and results
You need an expert to help you fine-tune or troubleshoot your current strategies
In order to get significant results, you'll need a large reserve of knowledge and planning, analysis, technology, and limitless scalability. If you're the CEO of a billion-dollar company, you'll need to delegate SEO projects to a firm that can grow with you. You don't want to outsource and then have to come back in a few months because the company you outsourced to can't handle your growth.
SEO Services in the Philippines
Some people hear the word outsourcing and they think they will lose control of a part of their business. But, this should not be the case, particularly with SEO. A successful SEO requires a tight-knit relationship between your business and third-party service provider, making sure that your marketing objectives and campaigns align with your SEO efforts.
Of course, maximizing the benefits of outsourcing your SEO takes hiring the best SEO expert for your business. Every SEO professional will be different, thus it's essential to research your options and choose the one with a verifiable and quantifiable history of driving success for their clients.
Personally, I would always lean on a strategic approach when it comes to SEO marketing. I've always believed that SEO should be focused on providing an amazing user experience as opposed to merely ranking for Google search. This is what sets my services apart from other freelancers.
I love research work and I find it challenging to study how customer behavior works and how companies can leverage that to improve their bottomline. This is why when I do SEO work, I make sure to focus on:
The buyer's journey: What does your audience want to see on your website? What type of content are they interested in? How can your content help them decide on their purchase?
User experience: How can we make sure that our target users have a great experience when they visit our website or landing pages? Are your pages and content designed to cater to their needs?
Conversions: How can we turn your website traffic into paying customers? What are the key elements that need to be in place to make sure that our users take the desired action?
Analytics: Tracking and understanding your data is crucial to making informed decisions about your SEO campaigns. I make sure to set up tracking for all my projects so we can measure and analyze the results of our efforts.
These are the four main pillars of my SEO strategy and I make sure that all my campaigns are focused on these goals. If you're looking to hire an SEO expert, make sure to look for someone who takes a similar approach.